Hand mixers are a wonderful alternative to the more expensive and more space consuming stand mixers. It is basically a handheld device that is perfect for those who are not exactly into baking but do bake once in a while.
There are two different types of hand mixers today – the rotary hand beater or the eggbeater type where beating is done manually (usually by pushing a button to create the beating) and the electric hand mixer which is just like the rotary hand beater except that it comes with an electric motor, thus eliminating the need to create the beating.
Hand mixers are generally preferred over stand mixers because they are more affordable and do not take too much space in the kitchen. And since they usually do not come with a bowl, you can practically store hand mixers inside the drawers in your cabinet. In addition, they are extremely easy to clean and operate and work best for those quick tasks and simple recipes that require minimal to heavy beating. If you want to know more about kitchen mixers, read our complete hand mixers buying guide!
To help you find the best hand mixer for your kitchen, we have put together a short list of what we think are the best ones today. Check these out:
Cuisinart Power Advantage Plus 9-Speed HM 90-S
This is obviously the top choice as far as hand mixers go. It comes at a relatively low price, features excellent beating skills, user friendly, and extremely easy to use, clean, and store.
You can use this either for those easy-to-do cookie dough or for kneading more difficult bread dough. Here are more detailed specifications of this powerful small kitchen tool:
220-watt motor with automatic feedback
Simple on/off button
1-touch speed control
9 speed options
3 low start speeds that prevent ingredients from splattering
Snap-On clear storage case
Includes beaters, whisk, dough hooks, spatula, instruction, and recipe book
Sunbeam Mixmaster Hand Mixer FPSBHM1502
We love this because of its somewhat retro but definitely attractive styling. It might look retro but do not underestimate its powers as far as mixing and kneading are concerned. The greatest part is that has the best price to beat.
It mixes batter quickly and thoroughly just the way every baker wants it. Standard beaters and batters are included and are easy to clean as they are dishwasher friendly. Here are its other details:
220-watt motor
Black retro finish
6 speed settings
Burst of power feature
Soft grip handle
KitchenAid Architect 9 Speed KHM920A
This is a very good looking mixer that will surely add beauty to your small kitchen. This will benefit those who are probably just starting out baking as this comes with a very easy-to-understand manual along with some recipes that one can start with.
The handle is easy to hold with a soft grip and it comes with a heel rest so you can leave it safely at the bowl if you suddenly have other things to attend to. To know more about this beautiful product of KitchenAid, here are its specifications:
Efficient and lightweight DC motor
Comfortable soft grip handle
9-speed electronic control
Digital LED display
Simple fingertip controls
Soft start function
Stainless steel turbo beaters and liquid blender rod
Easy beater eject button
Locking swivel cord locks
No-tip heel rest
Non-clogging air vents
Oster Hand Mixer with Retractable Cord 2577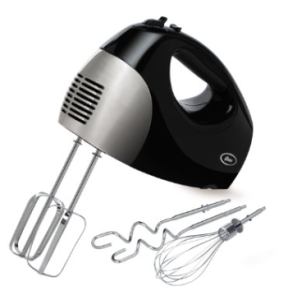 This is another favorite as it looks great, reasonably priced, and does its work like a true champion baker. Consumers who have bought this say that if you plan to bake a lot of breads, this would definitely do the job excellently that you can probably forget about a stand mixer.
It comes standard with beaters, whisk, dough hooks, and even a drink mixer which are all dishwasher safe. Here are its other great features and specifications:
Exceptional 250-watt motor performance
6-speed control
Burst of Power
Retractable cord for easy and safe storage
Weighs only 3.6 pounds
Slow speed for clean start
User-friendly construction with rubberized heel and bowl rest
Dualit Hand Mixer 88520
With its chrome finish, this will definitely look good in most modern kitchens today. However, do not be fooled because the body of this hand mixer is still plastic. Dualit just did a very good job on making it look otherwise.
This is famous for mixing batters quickly and consistently, kneading dough well, and producing excellent whipped creams. Here are the other things you need to know about the Dualit Hand Mixer 88520:
Heavy-duty 300-watt commercial quality motor
5-speed setting
Rotational speed of 540 rpm to 1200 rpm
Easy grip handle
Beater ejector unit with touch hold
Manually retractable power cord
Includes a balloon whisk, two oversize flat beaters, and dough hooks
With these handheld mixers, you would never ever to suffer from arm and shoulder pains from manually beating batters and dough only to end up with a less satisfactory consistency. In addition, you get to save more time as these kitchen appliances are extremely easy to use and clean.
Not sure yet whether you want to buy a hand mixer or a stand mixer? Find the pros and cons here! And check out this youtube to see how to use your hand mixer properly and get some tips and tricks.