Vacuum cleaners are almost always a compromise. If they're powerful enough to get your floors and furniture absolutely clean, they're usually too heavy for comfortable use. If they're light enough to use safely on the stairs, they're too weak to use on thick carpeting. In order to deal with these tradeoffs, many users keep multiple units in their house to deal with different situations. Some people have closets full of vacuums.
While the BISSELL Zing canister vacuum isn't the most powerful vacuum on the market, and it doesn't have a big range of attachments, its handy size and good performance on almost any surface makes a case for it to be the only vacuum you'll need to keep your home tidy. If you're tired of lugging out a great big vacuum every time you clean, you'll love the light weight and small canister the Bissell Zing offers. While the unit can roll behind you on three swiveling wheels, you may find yourself simply carrying the canister with you as you clean. It's only about the size of a loaded backpack, and along with its adjustable wand, it's handy for all your vacuuming chores.
BISSELL Zing Bagged Canister Vacuum Cleaner Purple 4122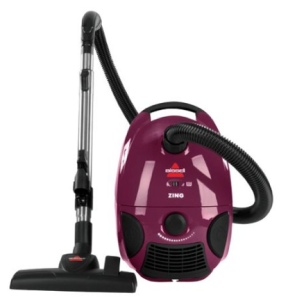 Specifications
Bagged canister vacuum
Canister is 18.6 x 11.1 x 11.5 inches
17-foot power cord
Automatic cord rewind
Variable suction control
Foam air filter
Cyclonic cleaning
Equipped with a full bag indicator
Swivel head
Telescoping wand
Uses disposable bag number 3064
Draws approximately 10 amps at 120 volts
Weighs 8 pounds
Shipping weight 12.8 pounds
Made in China
Features and Benefits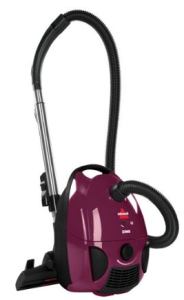 The BISSELL Zing canister vacuum doesn't have a beater head on the end of its wand. Beater heads are great at loosening deeply embedded grime from the bottom of a carpet's pile, but they're heavy, noisy, require a second motor to operate, and often get tangled with strands of hair and fabric. The Bissell's articulating head is much lighter and easier to use, and unlike a beater head, it works just as well on hard flooring as it does on carpet. The Zing canister vacuum develops powerful suction, which is all most people with low-pile carpet and wood or tile floors need to clean effectively. If you have throw rugs instead of carpets, you'll appreciate the not having the carpet edges being gobbled up by the beater bar, too.
The BISSELL Zing bagged canister vacuum lets users flip a switch to lessen the suction produced at the end of the wand. Along with an adjustable wand length, this feature makes the Zing perfect for vacuuming delicate drapes and upholstery. Since the canister itself is easy to carry and maneuver, you can bring the vacuum to the work, and use your Bissell for areas you once had to dust by hand.
Pros
Very inexpensive for a full-featured canister vacuum
Very powerful suction for such a small machine
Suitable for use on every kind of floor surface, from carpets to tile, taking the place of multiple vacuums and sweepers
Automatic cord rewind makes storing the vacuum neater and easier
Lightweight motor unit is easy to pick up and carry from place to place, or it can be rolled if you prefer
Big buttons on the top of the canister operate the motor and the cord retractor, making the vacuum very easy to use
Light enough to carry while you vacuum stairs, and shortening the wand also helps on staircases
Ability to dial back the suction allows unit to do a great job on upholstery and curtains
Fairly quiet for an inexpensive vacuum
Cons
Small bag size requires frequent changes
Unit is so small and light that it doesn't roll well, and sometimes rolls over
Foot-activated buttons aren't marked clearly
Final Verdict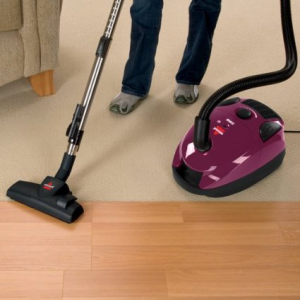 Vacuums are household appliances that people have strong opinions about, and that get purchased many times during a lifetime. That's why it's notable that the Bissell Zing 4122 gets four or more stars from over 85 percent of reviewers. Users are amazed at the powerful suction the Bissell generates with such a small canister. Reviewers like the ability of the Bissell to transition seamlessly from hard floors to carpet without having to change attachments or settings. Reviewers are especially pleased with the light weight and small size of the canister, and say that the ability to do a good vacuuming job on stairways alone makes the Bissell a winner.
Users that have small houses, apartments, or even travel trailers that require regular cleaning, but don't have room for a big vacuum, especially favor the Bissell Zing. Storage can be a problem with many vacuums, and while their many attachments can be useful, they can be tiresome to store and hook up when they're needed. While the Bissell Zing 4122 isn't as powerful as many other competing models, users say that it's powerful enough, quiet, easy to carry and store, and amazingly inexpensive for the value it brings, and highly recommend it to others.