Whether you're going on vacation or a business trip, the Black and Decker X50 is one of the best travel irons you can buy. The X-50 is perfect for smoothing wrinkled clothing that has been packed in a suitcase after a trip, or for touching up a shirt or blouse after cleaning. The X50 is also great for ironing at home if you prefer the feel of a small, lightweight iron to a large conventional iron.
Many people prefer small travel irons to full-size conventional irons because of their small footprint and flexibility. People often don't have space to store a large iron, or are tired of constantly fiddling with long power cords and complicated settings. Travel irons are small, and don't take very long to heat up, but they can get the wrinkles out of a button down shirt or dress with just a few passes. The steamer function works well when you have delicate clothes on hangers and don't want to take them out and stretch them out on an ironing board.
Specifications
The Black & Decker X50 is a travel steam iron
The iron measures approximately 8 inches by 3.25 inches by four inches
The item weighs 1.5 pounds when empty and 1.9 pounds when full
Runs on 120 volts AC or 240 volts DC
Nonstick stainless steel soleplate
Variable steam control knob
Spray mist button located on the top of the handle
Removable water reservoir that can hold 4 fl oz.
Folding handle
Travel bag included
Blue and white color scheme
Light and easy to use, the Black and Decker travel iron can be used in almost any situation. Many people who travel in an RV or go on business trips prefer to take along an iron to keep their clothes well pressed, but a conventional iron is too bulky to go on long journeys.
Pros
The iron can run overseas because it comes equipped with both 120 volt and 240 volt circuits
The handle can fold flat for storage, making the iron ideal for packing in a suitcase or carryon bag
The spray mist button directs a consistent amount of water onto the fabric without causing spotting or spraying too much water all at once
The iron is self cleaning, so all you have to do is use it at a low setting and the iron will remove sediment and minerals from its internal mechanisms
The nonstick soleplate ensures a smooth, gentle action over any type of material including this polyester and thick cotton fabrics
The iron is very versatile and works anywhere, at any time, even if you don't have an ironing board.
The Black and Decker X50 can spray steam when held vertically, functioning as a steamer for hanging clothing
The travel iron is very durable and can be knocked around in a suitcase or travel bag quite a bit and still be used once you reach your destination
Cons
The Black & Decker X50 doesn't hold very much water and the steamer function doesn't last very long
The plastic exterior can feel a bit flimsy at times, but it holds together well under stress
Final Verdict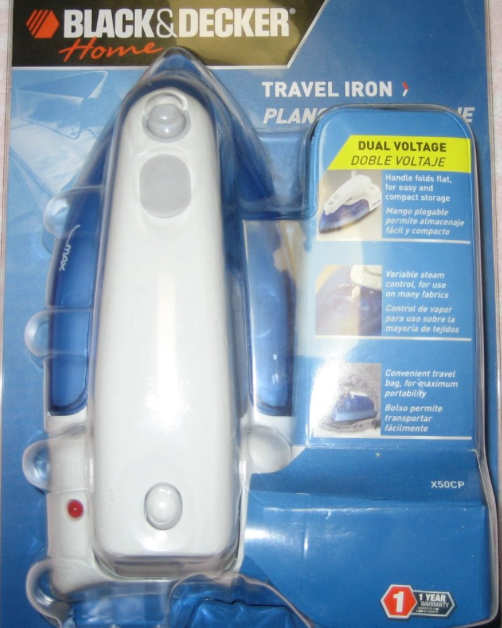 One of the best travel irons currently on the market, the Black and Decker X50 combines all the elements of a modern, steam irons into one small package. The X50 is very popular among travelers, businessmen, and RV enthusiasts because it offers the comfort of wearing pressed clothes when far away from home. The travel iron comes high recommended by reviewers. Over 75 percent of all reviews rated the Black and Decker X50 four stars or more.