Taking their innovative side on full force once again, Breville presents the BEM800XL Scraper Mixer Pro which is said to revolutionize baking. This stand mixer is ideal for bakers regardless of skill level. You may be a beginner who wants everything in perfect order right from the start.
The great need for a skilled stand mixer or you may be the professional who can bake even during sleep. Regardless of which category you are, this Breville Scraper Mixer Pro will not fail to satisfy you.
Breville remains to be the brand with the most top-scoring stand mixers and this Scraper Mixer Pro is another proof of this. It proudly features stand mixer supremacy after achieving flawless reviews and marks from critics who reviewed it. In fact, it advances a bit more than KitchenAid that is another famous and known innovator in the kitchen appliances category.

Breville BEM800XL Scraper Mixer Pro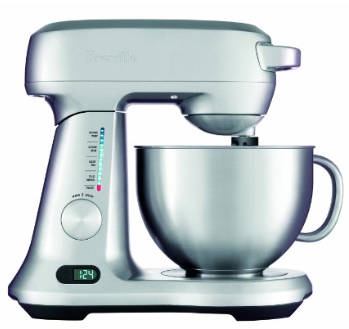 Click for the Price here!
Specifications
If you are a dedicated baker, you know that all good baked things come from sticky and hard to manage ingredients. It is a sticky mess that everyone hates but from that comes out perfectly baked goodies that no one can resist. So how exactly do you solve such a problem?
The answer is by getting a reliable stand mixer that is designed by bakers for bakers. The BEM800XL Scraper Mixer Pro by Breville is a classic stand mixer yet is packed with more modern features.
Check out the full description of specifications below:
550 watts
5-quart stainless steel mixing bowl
Die-cast stainless steel construction
Planetary mixing action
Flexible edge
Easy to use
Blue LED indicator
Load sensing technology for motor protection
12-speed electronic control
10-minute timer
Auto-Off feature
Lift Assist Mixer Head for tilt back position
Comes with a pouring shield to prevent mess
Tools included are flat beater, scraper beater, dough hook, wire whip, and spatula.
Hand wash for the bowl and the tools
Damp cloth and wipe dry for the mixer body
Measures 16 x 9 x 14 inches high
Weighs around 16 pounds
Comes in three colors – silver, black sesame, and cranberry red
1–year limited product warranty
Features
With its beautiful appearance aside, the Breville mixer still tops ratings with incredibly great features that add to every baker's efficiency in the kitchen. Check these features out to understand why the BEM800XL Scraper Mixer Pro is truly made for baking as it connects your imagination to reality.
Highly Efficient
Whenever we purchase kitchen equipment, the first thing we must be sure of is its efficiency. In baking, you do not buy an equipment just because it looks good but because it can carry out its duty efficiently. You look for functionality first and foremost. Beauty only comes next if you are particular about what your kitchen would look like.
With this stand mixer's easy-to-use 12-speed control, a baker is presented with as much options as he/she would please. From the lowest setting to the most powerful one for the hardest dough there is, this stand mixer just would not stop at anything.
In addition, this also comes with a timer feature which experts say is perfect especially for those seven-minute frostings. Seven minutes is a lot of time for a baker to do something else to be more productive.
Stress-Free Baking
The main stress in baking comes in mixing the ingredients properly altogether without creating a mess in the kitchen since the baking itself only entails putting the batter or the kneaded dough inside the oven and waiting for it to cook.
Breville knows this which is why they created the Scraper Mixer Pro. Remember how you always have to reach out for a spatula to scrape the beater attachment and the sides of the bowl? With this stand mixer, the scraper beater comes with flexible edges that basically continuously folds and scrapes the sides and bottom of the bowl, hence, a very thorough mixing without having to stop at certain times.
Easy to Use, Clean, and Store
Everything about the BEM800XL mixer by Breville is easy. With 12 different speeds and a LED indicator, it is extremely easy to use most especially given the fact that this mixer prevents burnouts with its load sensing technology. If you are worried about splatters, this also comes with a 2-piece pouring shield and a bowl that locks securely for safety and stability. The easy to understand manual provides you all the information you can wish for.
Cleaning and storage are equally easy as this has an internal cord storage located at the rear part of the stand mixer.
Pros & Cons
While it is true that the Breville BEM800XL does not come with a power hub for more attachments such as with other brands, it still gets baking work done. Yes it may not be able to grind meat because of the lack of the right tool but it does not mean it cannot most especially with its strong and capable 550-watt motor.
Breville probably thought that they would rather have the Scraper Mixer Pro act its main purposes and leave the other tasks for their other small kitchen equipment, which makes sense.
Others also think that the splash guard that is supposed to prevent splatters is difficult to attach and remove. Other than that, everyone find this Breville Scraper Mixer Pro almost perfect.
Final Verdict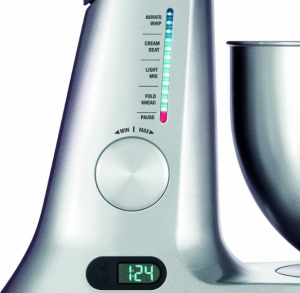 Click here for the Price!

Truth is the Breville BEM800XL Mixer Pro can actually be your new favorite kitchen appliance. If you are an excellent baker, then the most you need a more excellent mixer to carry out all your challenging mixing and baking tasks. And from what we have seen, this stand mixer will surely give you more satisfaction out of your baked goodies.