If you are looking, wishing, and hoping to buy the last toaster you will use this lifetime, then you just might have found it. The Breville BTA840XL Die-Cast 4-Slice Smart toaster is one intelligent toaster that is easy to use yet produces perfect toasts each and every time.
It features a sleek and modern design which assures everyone that this would surely fit in the kitchen completely like it was made to accent or to be incorporated. Adding a modern touch to this otherwise already beautiful toaster are the motorized functions, LED shading selectors, and the digital displays. Who knew that bread toasters could be this advanced and futuristic?

Breville BTA840XL Die-Cast 4-Slice Smart Toaster
Click for the Price here!
Specifications
Designed to be thoroughly impressive, the Breville BTA840XL toaster has a long list of specifications that explain what it is all about. These also clearly indicates Breville's goal of improving one's morning routine while maintaining the basic overall purpose of every toaster. Here are the complete details:
1800 watts
4-slice toaster
Intelligent One-Touch Auto Lowering Function
Push Button Controls
Dual Independent Toast Controls
4 Toast Functions – A Bit More, Bagel, Lift-and-Look, and Defrost
Toasting Process LED panel
Variable browning control
Brushed die-cast metal housing
End-of-cycle beep
1-1/5-inch wide slots
Cord wrap storage
Measures 11-3/4 x 11-3/4 x 7-3/4
Slots are 1.2 inches wide and 5.2 inches deep
Weighs approximately 9 pounds
1-year limited warranty
Features
Breville refers to this toaster as their smart one because it is fully automated and motorized making toasting extremely easy. Get to know more of the outstanding features of this great BTA840XL 4-Slice toaster by Breville:
The Different Toasting Functions
From the self-centering function to the four different toast functions and even up to the five general shade settings that this offers, there is no room for disappointment with this amazingly smart toaster.
It does not have a mind of its own but all you would have to do is input exactly what you want, step back, let this smart toaster do its job, and enjoy your superb toast.
Some actually say that this has fewer shade settings than the other ones they have seen in the market. However, the great thing here is the Lift and Look feature which lets you see how brown your bread already is.
With this simple but efficient function, you do have the option of achieving the perfectly browned toast depending on your mood. This is the same reason why you must have heard Breville claim 12 browning options and not just five.
In addition, this toaster has four different toast options to make your mornings easier:
Bagel Setting – This toasts the cut sides of bagels effectively for as long as you place the bagel facing the middle coil.
Defrost Setting – This is very helpful for those who have the need to freeze breads for some reason. It totally eliminates the need to thaw frozen bread first (as this may take longer time). One can get the frozen bread out of the freezer and put it straight into this toaster and still come up with delicious freshly toasted bread like it was never put in the freezer in the first place.
Lift-and-Look Feature – This is the setting that can help you find your sweet browned spot. With this, there is no need to turn the toaster off as you try to check it out if the bread is browned just the way you want it within just a single push of a button.
A Bit More – This further helps one achieve what they want with their bread. It lets you add additional 30 seconds to the toasting time without the need to fully change any of your previously set settings.
The Efficient Design
Breville perfectly shows consumers how it is to have small kitchen equipment that goes beyond functionality. It is highly durable given the fact that it is made of brushed die-cast aluminum steel and it has extra wide slots so that you can literally put any kind of bread inside and toast it to perfection each and every time.
Another thing we love about this Breville 4-slice BTA840XL toaster's design is that it is safe to use even with kids around because of the Cool Touch technology that is incorporated. Because of this, the sides of this toaster remains ultimately cool all the time.
Great Help and Support From the Manufacturer
This may come with just a 1-year limited warranty but Breville has a toll-free number that offers help anytime anyone who owns a Breville appliance needs it.
In addition to the standard user manual that is included in the package, one can also check Breville's website where there are forums and people who have purchased Breville kitchen appliances can actually help each other or exchange ideas.
Pros & Cons
According to experts, you cannot expect flawless durability without a little bit of sacrifice. And for this Breville BTA840XL toaster, the sacrifice comes with its weight being on the heavy side. However, the good thing about this is that even if for some reason you bump or push it, it would not fall off the counter easily.
Final Verdict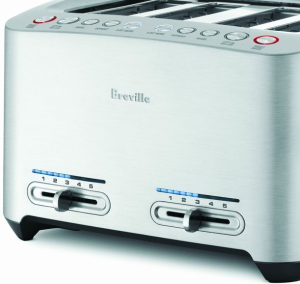 Click here for the Price!

When looking for the perfect bread toaster to make your mornings more enjoyable, the BTA840XL 4-slice toaster by Breville is truly worth checking out. It will consistently give you the perfect bread toasts each and every time without any of the hassles that ordinary toasters pose. It is extremely easy to use yet it has that modern flare that brings a kitchen into life. Because of all these, you just might want to head out to the kitchen right away upon waking up in the morning for that fresh toast. And what would be more enjoyable than having a great french toast as breakfast or any other type of toast actually.
We love everything about the Breville BTA840XL including the weight but what truly got us extremely delighted is the sweet combination of the unique features and controls. For that, anyone can get restaurant-like perfection in every toast at any given time of the day.