If you are looking for a proven durable and efficient stand mixer that you can probably grow old with, Cuisinart has something great for you – the Cuisinart SM-55. It is reasonably priced, extremely efficient regardless of the mixing task, and comes with a longer warranty than other stand mixers available in the market today.
The design is simple but obviously very functional. It has simple but useful controls for every possible mixing job. Whether you are planning to make some cookies or bread or just a simple batter for your cupcakes, the Cuisinart SM-55 is more than prepared to help you make things easier.

Cuisinart SM-55 Stand Mixer
Click for the Price here!
Specifications
The SM-55 by Cuisinart stand mixer is not just functional; it is a space saver as well. This makes it a suitable choice even for those who do not have the luxury of kitchen space or countertop. With this stand mixer, you can produce freshly baked breads or even pizza in no time without the stand mixer occupying the whole countertop.
Check out this list of complete specifications:
800-watt motor

Extra-large 5.5-quart stainless steel bowl
12 variable speeds for precision mixing
Slow start TM feature that works excellent for mixing wet and dry ingredients
Gentle fold function for consistent results
15-minute digital countdown timer
3 Power Outlets as provision for other attachments
Heavy-duty die-cast metal finish
Upscale brushed chrome, black or white finish
Auto Shutoff
Tilt-Back Head
Package includes chef's whisk, flat mixing paddle, and dough hook
Comes with a splashguard
Measures 15.5 x 10 x 12.5 inches
Weighs approximately 23.2 pounds
Limited 3-year product warranty
Full 5-year motor warranty
Optional Accessories such as citrus juicer, blender, pasta maker, food processor, and meat grinder
Features
If you are all about functionality, it would be pretty hard not to be totally won over by this stand mixer. From build quality to the design and to the actual capabilities, the Cuisinart SM-55 mixer is one excellent machine that is worthy of high praises.
Here are some of its outstanding features that won us over:
High Performance
With an 800-watt motor, the SM-55 stand mixer has the great ability to do all sorts of things that the accessories and tools command. Whether it is mixing, blending, kneading, and even meat grinding, it will do its job without hesitation in the fastest and quietest way possible.
As per testing, this Cuisinart SM-55 has the capacity to mix up dough for two bread pans and a double batch of oatmeal cookies (recipe) without showing a bit of power problem. Amazingly, this is so powerful yet weighs less than most stand mixers today. Despite its contrasting power and weight, it stays put on the countertop and does not "walk" like others do.
Ergonomic Design
This stand mixer has a twist and remove feature which lets one easily remove the bowl for whatever purpose you need it. In addition, the bowl also has handles making it easy to hold on to most especially if you are going to remove the contents or simply to transport the mixture to another area of the kitchen.
Elimination of Bowl Scraping
In contrary to what other review sites have released, the SM-55 of Cuisinart does have a planetary mixing action that totally eliminates the need to stop and scrape the bowl for better mixing.
It does have a tilt head feature which is specially designed so that removal and attachment of tools and accessories would be easy should there be a need to change attachments in the middle of a mixing job.
Pros & Cons
The Cuisinart SM-55 is not perfect but it is definitely the closest you can get to mixing perfection. Some state that the capacity is less than stated. However, be reminded that one should not push the limits of any kitchen equipment for that matter. If it states a 5.5-quart capacity, do not use it at that level every single time. You are increasing the risk for damage by doing so.
Some also say that they find the bowl too deep and the beaters too small that they doubt it will produce a consistent batter. However, most of the consumers who have used this state that it works perfectly as it is and that they still are able to get consistently mixed batters and mixtures.
Final Verdict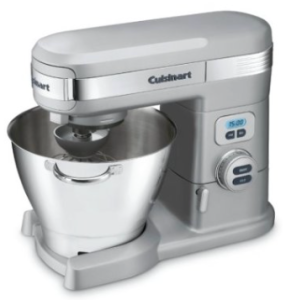 Click here for the Price!

The SM-55 by Cuisinart remains to be one solid option if you are shopping for a convenient and space saving stand mixer. It literally does everything yet is quite reasonably priced with a great warranty and long life expectancy.
Given that this stand mixer is built to North American Electrical Standards, you are assured of its safety. In addition, it is very easy to use and clean. If you have not tried using a Cuisinart mixer, this might be the right time to try this kitchen appliance and you surely will not regret it.