Getting fresh, aromatic coffee at the comfort of your home has never looked this good. The DeLonghi DCF2212T drip coffee maker features a front-access design which is absolutely functional. It even comes with a 24-hour digital timer. Do you want to wake up to the amazing aroma or freshly brewed coffee but you have no one else to do it for you? That is now made possible by this amazing coffee maker.
This is an excellent coffee maker with a beautiful, compact, and convenient design that stands up even with constant use. With its relatively inexpensive price, it still makes great and aromatic coffee just the way all coffee lovers want it.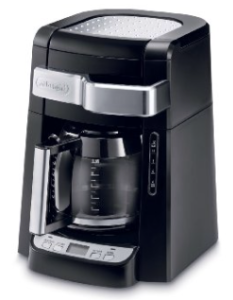 Specifications
Preparing coffee has always been challenging until all these coffee maker manufacturers picked up on the trend as coffee shops seemed to be getting all the profit. Not too soon after the boost in coffee shops, different kinds of coffee makers started showing at the market shelves. They all offer pretty much the same coffee experience as you would in a coffee shop at a fraction of the price. Who would not fall for that?
Today, years after the great increase in coffee maker sales, some stand out and some remain in the background. The DeLonghi DCF2212T one of the more fortunate ones as consumers simply love it. To know why this coffee maker remains a standout, here are its detailed specifications:
Unique front-access design for easy access to water and coffee filter
Aroma button function time for a fuller flavor
24-hour programmable digital timer
2-hour auto shut-off
12-cup 60-ounce capacity glass carafe
Durable and long-lasting permanent gold-tone filter
Storage tray that warms cups
Pause and serve function
Water level indicator
Freshness indicator
Easy cleanup
Convenient cord storage
Input power of 970 watts
Features
Making a prestigious presence in the kitchen is this DeLonghi DCF2212T drip coffee maker that comes in the elegant combination of silver and black colors. It is lightweight and can be accommodated literally anywhere in the kitchen. It has a small footprint and would take little space wherever you plan to put it.
With the brand's commitment to give consumers a luxurious and high-quality coffee maker, the DeLonghi DCF2212T comes with a wide array of features to make brewing coffee easier yet with the same efficiency.
The Unique and Patented Design
With a unique and state-of-the-art front entry design which you can only see with the DeLonghi DCF2212T, accessibility is definitely one of its strongest features. Because of the beauty and convenience of this design, it has been patented.
With this construction, anyone has easy access to the coffee filter and water channel. There is no need to move the machine or disassemble some parts just to add water or coffee grounds. You simply have to pull the handle and you can have 12 cups of water ready in no time.
The 24-Hour Programmable Timer
This is another feature that took the hearts of the consumers away. While most coffee maker today comes with a timer, you have to commend DeLonghi for thinking of a 24-hour timer. How good it is to be awakened by fresh aromatic coffee just in time to inspire you to get out of bed and get ready for work.
In addition, this also comes with a programmable 2-hour auto shutoff. Do not forget to set this up after you get your first cup of coffee though.
The Aroma Button
Basically, what happens when one pushes the aroma button is water is sprayed on to the ground coffee and saturates it. Water is sprayed in an interval of 30 seconds. This is said to be the key to have the best flavored coffee and highly recommended if you are preparing small batches of coffee.
Pros
With the ability to produce as little as four cups and as much as 12 cups, this DeLonghi DCF2212T drip coffee maker is great for personal use and even during occasions where you might want to serve coffee after a full-course meal. Another feature to love is the storage tray which warms the coffee efficiently.
The storage tray is conveniently located on top of the machine so if you have already prepared your spouse's coffee but is still getting ready for work, you can simply put it here and the coffee will still be warm by the time he/she is ready to drink it.
Another plus is the very easy cleaning and maintenance of this drip feed coffee maker.
Cons
With an average rating of 4 stars after a lot of customer reviews, you know this DeLonghi DCF2212T drip coffee maker is up to something really good. However, some say that it would have been way better if the water indicator comes with clearer markings especially since most people who operate this machine are probably still half asleep by the time they reach out for coffee.
The Final Verdict
With the DCF2212T drip coffee maker's superior reviews and DeLonghi's great after sales service, it is just impossible to regret buying this practically priced coffee maker. It makes delicious aromatic coffee in little time and it is very convenient and easy to use making it a true kitchen must-have.