The growing popularity of home espresso makers has made owning a high-quality espresso and cappuccino machine a must-have for any modern kitchen. Many espresso enthusiasts recommend the DeLonghi EC155 because it can consistently produce café-quality espresso without the hassle of operating classic café appliances. The device can use either coffee grounds or ESE pods depending on your taste preferences. The DeLonghi can also make cappuccinos with the device's built-in frother that can produce rich, long-lasting foam. The device's dual espresso head allows the user to produce two cups of espresso at once, which is much more convenient when serving guests or making lattes.
The DeLonghi EC155 pump espresso machine delivers authentic Italian espresso quickly and effortlessly, due to the device's high-quality steel boiler and dual thermostats. The thermostats can be programmed to the optimal brewing temperature for both espresso and cappuccino, without requiring the user to reset the temperature with every use.
Specifications
The DeLonghi EC155 is an espresso and cappuccino maker
Measures 7.5 x 9.4 x 11.4 inches
Weighs 6.7 pounds
Shipping weight 8.2 pounds
Input power: 1100 watts at 120 volts
Stainless steel boiler
Pump pressure: 15-bar
Cup warmer
Adjustable steam emission
Cappuccino system
Removable 35-ounce water tank
UL safety certified
Mechanical control type
Accepts single serving pods or coffee grounds
Swivel jet frother
Self-priming start-up mechanism
Dual-function filter holder
Includes operation manual
Features and Benefits
The device comes with DeLonghi's patented Swivel Jet Frother, which makes it easy to prepare lattes and cappuccinos. The swivel jet frother can consistently produce rich, creamy froth for your drinks at the pull of a lever. The EC155 also comes with a dual-function filter holder, so you can use ground coffee to make a classic sup of espresso, or a coffee pod for added convenience. This also makes cappuccino preparation quick and easy, because you can use optimized cappuccino coffee pods instead of grinding and tamping the coffee beans by hand. The device is also simple to clean, and it comes with a removable 35-ounce water tank that is easy to refill. The entire device can be disassembled, cleaned, and reassembled in a few minutes, so you can get back to making drinks quickly.
The DeLonghi gets rid of annoying warm-up processes by implementing their new self-priming operation into the device's heating system. This helps the user get their espresso faster, with less waiting for the element and the boiler to reach the optimal temperature. As soon as you activate the device, the boiler will go into a standby mode and begin to pre-heat. Then, when you've selected an espresso or cappuccino setting, the device automatically heats up the rest of the way in about a minute and begins extracting your beverage.
Pros
The device comes with two independent thermometers for espresso and steam, so you'll always know when you've reached the optimal steam temperature
The DeLonghi doesn't take up very much space on the counter and it looks good alongside other modern appliances
The water reservoir is large enough to make about eight to ten shots before it needs to be refilled
The device heats up quickly, and it only takes about a minute to reach the optimal extraction temperature
The espresso maker comes with multiple temperature settings, so you can customize the brewing and steam settings to your preferred temperatures
The stainless steel boiler is very high-quality, and it's rated to last for several years
The 15-bar pressure system helps achieve the an authentic, café-espresso flavor that devices with higher pressure settings have trouble matching
The on/off switch is easy to operate, and the device comes with an indicator light that displays when the device is on, off, and in priming mode
DeLonghi's patented dual-function filter can use convenient pods or ground coffee, which make espresso preparation quick and easy
The device produces high-quality crema at a consistent rate and temperature
Cons
It's recommended that you clean the machine thoroughly every month to remove any coffee grounds that become lodged inside the machine. Some people who are used to self-cleaning machines might not like having to clean the espresso maker themselves every month
The frother is positioned lower on the machine than other machines, so some users might have difficulty fitting anything larger than a small pitcher under the frother's nozzle
Final Verdict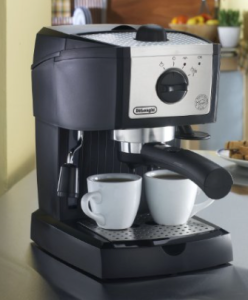 The quality of an espresso machine can be the deciding factor in the quality of your homemade espresso. One of the best espresso and cappuccino makers currently available, the DeLonghi EC155 is a welcome addition to any modern kitchen. The device comes with a host of modern features that make producing high-quality espresso as easy as brewing a cup of coffee. The DeLonghi EC155 is also very popular with online reviewers, and the device receives a rating of four stars or higher in 85 percent of all reviews.