One of the most popular consumer gelato makers currently on the available, the DeLonghi GM6000 has captured a large portion of the market due to its ability to consistently produce professional-grade gelato at a fraction of the price it would cost to buy gelato from a restaurant or café. Whether you're providing frosty desserts for a large get-together, or you simply want to make yourself a sweet tree, the DeLonghi gelato maker is always an excellent option. At the push of a button you can produce professional-quality gelato in the comfort of your own home.
This ice cream maker doesn't make the user perform any unusual preparation steps. You don't need to pre-freeze any mixtures, or leave the ingredients in the freezer overnight. The user simply has to add the ingredients to the mixer, and the device will automatically churn out several, back-to-back batches of gelato. The DeLonghi GM6000 doesn't require the user to even be in the room while it makes frosty treats, which is very convenient because making desserts can be very time consuming when done by hand.
DeLonghi GM6000 Gelato Ice Cream Maker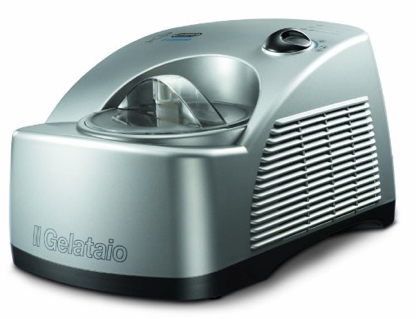 Specifications
The DeLonghi GM6000 is a Italian-style gelato ice cream maker
Measures 12.8 x 15.8 x 9.6 inches
Weighs 28 pounds
Shipping weight: 34 pounds
Model number: GM6000
Built-in compressor
Removable stainless steel bowl
Plastic paddle and scoop
Paddle, bowl, lid, and scoop are dishwasher safe
Instruction manual
Recipe booklet with over 50 recipes
Runs on 200 watts at 120 volts
Bowl capacity: 1.25 quarts
Produces 2.75 cups of gelato
One-year limited manufacturer's warranty on parts and labor
Features and Benefits
The DeLonghi GM6000 offers a host of user-friendly functions that make preparing high-quality gelato a breeze. One of the main issues of running large, compressor-driven cooling systems is that the devices tend to be quite loud. The DeLonghi GM6000 on the other hand runs exceptionally quietly when compared to other ice cream makers in a similar price range. The gelato machine only makes a fraction of the noise a conventional ice cream maker generates, which is a definite plus for anyone who's switching over from an ice cream maker to a dedicated gelato machine.
The DeLonghi GM6000 is programmed to create an ideal gelato consistency by mixing a combination of rich ingredients without adding any air to the ingredients. This process makes a much more flavorful treat that is blended with the efficiency of a professional ice cream machine. After you've finished enjoying your gelato, you're going to have to clean out the device, which can be difficult. Luckily, the DeLonghi GM6000 is easy to clean because nearly every part that comes in contact with the ingredients is machine washable.
Pros
The DeLonghi GM6000 is very easy to assemble and use. There are very few extraneous parts, and nearly every removable part is dishwasher safe, which makes cleaning and maintenance easy
The manual comes with over fifty unique recipes that you can try out with your gelato maker. All the recipes are easy to follow for even a novice chef
The device comes with a self-refrigerating compressor, so the gelato will form while the ingredients are being mixed and you won't have to wait very long before you can enjoy your gelato
The DeLonghi GM6000 mixes the ingredient in below-freezing temperatures, which allows the user to make multiple batches continuously because the ingredients don't take very long to form into ice cream
The possibility to add fruits, chocolate or nuts to make the best homemade flavored gelato ice cream
The device uses DeLonghi's specially made mixing system to combine the elements from top to bottom with their patented mixing paddles. This produces an authentic consistency that is very similar to traditional Italian gelato ice cream
The GM6000 uses energy-saving refrigerant gas that doesn't deplete the ozone layer. The gas is non-toxic, non-flammable, and non-corrosive, so if you ever accidentally damage the device you don't have to worry about hazardous gases leaking out
The device doesn't require the user to add any ice or rock salt, which makes the process much cleaner than old-fashioned ice cream makers. The device uses a similar process to what professional gelato makers use by incorporating compressor-based refrigerant gas into the cooling system
Cons
Due to the large refrigerant system, the device is very large and heavy; some users might have trouble moving the device around the kitchen
The DeLonghi GM6000 only serves a small amount of ice cream with each batch, so it can take quite a while to make enough gelato to feed a large amount of people
Final Verdict
An excellent addition to any modern kitchen, the DeLonghi GM6000 creates creamy, authentic Italian gelato ice cream at a fraction of the price it would cost to buy it from the grocery store. Gelato enthusiasts insist that the best way to enjoy gelato ice cream is fresh, which is why many people have been gravitating towards home gelato machines. The DeLonghi GM6000 is popular with both users and reviewers, and the machine is rated at four stars or higher in over 84 percent of all reviews.