For many people, vacuums are too much trouble for the utility they offer. No matter how much you spend, the units are too big, bulky, and hard to use and store. In some areas, like on stairs, their bulky size and heavy weight can even make them dangerous. That's why an increasing number of people are doing all their vacuuming chores with small, light units like the Eureka 3670G Mighty Mite Canister Vacuum. The Eureka is one of the smallest and lightest canister vacuums on the market, but it offers one of the most powerful motors in its class.
While the Eureka Mighty Mite rolls easily over either hard flooring or carpets, its light weight and small size lets users pick it up and carry it just as easily as pulling it along as you go. That makes it perfect for vacuuming staircases and other areas where bringing the vacuum along with you isn't practical.
Eureka 3670G Mighty Mite Canister Vacuum Cleaner
Specifications
Corded lightweight canister vacuum
Weighs 8.6 pounds
Shipping weight 12.2 pounds
9 x 17.5 x 11.3 inches
20-foot cord length
Uses 12 amps at 120 volts
Auto-shutoff prevents overheating
Blower port
10-inch wide floor attachment
Comes with bare floor brush, crevice tool, and dusting brush
Made in Mexico
One-year manufacturer's warranty
Features and Benefits
The Eureka 3607G Mighty Mite doesn't look much like a conventional canister vacuum. Its black and yellow housing and utilitarian design looks more at home in a workshop or garage than in the house. That no-nonsense design is more than just style. The 3607G is plenty durable and powerful enough to use for cleaning out your car or truck, and unlike any other unit in its class, you can reverse the wand and hose to make a powerful blower that makes short work of cleaning out the garage or workshop without sucking up a lot of debris into the filter bag.
The Eureka 3670G Mighty Mite can be adjusted to bring less suction directly to the hose end or attachments, which allows you to vacuum more delicate surfaces like blinds and curtains without sucking them into the hose and damaging them. With the modular extension wands and dusting brush, you can reach to the top of tall windows without having to get on a ladder.
The 3670G uses disposable bags to collect dust and dirt. Some manufacturers charge high prices for replaceable bags as a way to make up for a low purchase price, but the Eureka bags are priced reasonably and do a good job at filtration. The unit opens up easily, and disposing of the bags and inserting replacements is a simple operation.
Pros
Powerful motor develops big suction
Very light weight and small size makes it easy to pick up, carry, and stow away when you're done cleaning
Hose can be used on blower port to make the unit into a powerful blower if desired
Great at picking up pet hair on all surfaces
Small size and versatile tool and wand setup makes it great for use in cars and garages
Pulls around easily behind you while you're cleaning on three soft plastic rollers
Doesn't leave marks on laminate or hardwood floors
Cons
Replacement filter bags can be difficult to find in retail stores
Motor runs hot
Power cord doesn't retract
Final Verdict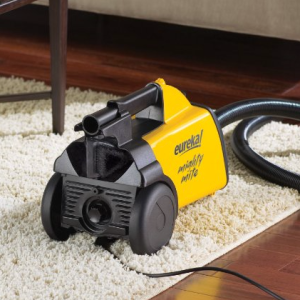 The Eureka 3670G Mighty Mite is priced at the lower end of the canister vacuum spectrum, but it delivers powerful performance. It's a best seller for canister vacuums. User reviews are overwhelmingly positive for the 3670G, with over 82 percent giving the unit four stars or better. Because the Mighty Mite doesn't have a powered roller in its floor attachment, the unit is better at cleaning hard flooring and low pile carpet, but it does a credible job on even heavy carpet. Some users report that the Mighty Mite has a fairly small floor brush and takes a long time to cover large areas of flooring.
Many reviewers report that they've found multiple uses for the blower function of the Mighty Mite household appliance. Since the unit is so sturdy and portable, it's perfect for bringing out into the garage or driveway, and reviewers say it's great for keeping your car or truck spic and span. The powerful blower can send leaves and debris flying out of your garage, or blow out a pick-up truck's bed. That can be more convenient and quicker than trying to vacuum up that much material into a shop-vac.
Reviewers say that the Eureka Mighty Mite canister vacuum is a perfect all-in-one vacuum for houses where space is at a premium, and for the budget-minded consumer. The 3670G has a very low price tag but performs as well as units that cost hundreds more, and is rated a best buy.