Since juicing became a worldwide trend where health and fitness experts serve as living proofs of its numerous benefits with weight loss being on the top spot, juice extractors or juicers have become a necessary staple in every household.
What probably got the attention of everyone is the fact that you can put vegetables in the juicer and still be able to drink them without having to vomit. Yes we have tried to blend vegetables and it tastes even worse than just eating them steamed or mixed in food. This is great benefit of juice extractors over blenders.
In addition, one can easily throw unpeeled vegetables and fruits with seeds at the same time at a juice extractor and get pure health juice. But where do the fruit and vegetable skin and seeds go? This is another great feature of juicers. It is almost like magic that it can easily separate the seeds and skin so you get only pure fruit and vegetable juice.
Remember that medical experts say that there should be a balance between fruit and vegetable intake. Fruits contain an enormous amount of sugar whereas vegetables do not. If you have picky eaters at home, this could be a great way of introducing healthy juices to them as an alternative.
So what we have done is compiled the best juice extractors today for you to better assess which one suits you and your family's needs the most.
Breville Juice Fountain Plus JE98XL
This is regarded by most experts as the best centrifugal juicer there is today. The Breville JE98XL Juice Fountain Plus is fast, powerful, has a large feed tube, works quietly, and highly durable. It is also versatile as it can easily handle various vegetables including spinach, kale, and even celery and efficiently extracts the juice out of soft fruits.
Using this juice extractor is extremely easy as the controls are straightforward. For as long the fruits and vegetables are able to fit in the feed chute, there is no need to chop or remove the skin. To know more about the Breville Juice Fountain Plus JE98XL, here are more details:
850-watt dual speed motor
Powerful stainless-steel cutting disc
Extra-wide 3-inch feeder chute
Produces 8 ounces of juice within 5 seconds
Safety locking arm
Overload protection LED
Large capacity pulp collector
Dishwasher safe parts
Includes 1-liter juice jug with froth separator, filter basket, cleaning brush
1-year limited warranty
Omega J8006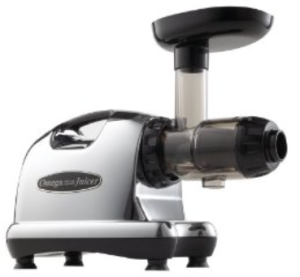 The Omega J8006 Nutrition Center is actually a bestseller at Amazon with a great price. Experts say that this is the best masticating juicer as it juices quietly, versatile, easy to clean, and comes with a longer warranty. However, it has got a large footprint which might not be exactly suitable for those with small kitchen spaces.
However, this is the pick of those who are decided to do some serious juicing. It can easily handle both easy and tough fruits and vegetables as it slowly extracts the juice, therefore, preserving the maximum amount of nutrients and enzymes needed.
In addition, this works more than just a juice extractor as it can also make pasta, mince herbs, and grind coffee and herbs. To know more, here are some of its specific details:
Low speed of 80 RPMs
Easy to use
Powerful motor
No foaming, clogging, or heat buildup
High juice yield
Auto pulp ejection
Dual-stage juicing system
Quiet operation
15-year warranty
Kuvings NS-940 Silent Upright Masticating Juicer
This is a beautiful and modern-looking vertical masticating juicer that provides an ultimately efficient juicing experience. In addition, it comes with a safety system that puts minds at ease. It works quieter than most centrifugal juicers yet is versatile enough to handle both soft and hard fruits and vegetables.
This juice extractor is extremely durable as it is made from a material which is 8x stronger than the plastics used in most juicers today. This Kuvings NS-940 Silent Upright Masticating Juicer is also available in three beautiful colors – red, black, and silver. Here are its other details:
24-watt motor
Operates quietly at 80 rpm
Features low-speed masticating technology
Minimizes oxidation
Preserves healthy nutrients
BPA-free components
Juicing bowl and cup made from Eastman Tritan
Two-step safety start system
Easy to clean with patented cleaning tool
10-year warranty
Breville BJE200XL Compact Juice Fountain
This remains to be the best choice for beginners who are not yet ready to splurge on expensive juice extractors. At its price of below $100, this Breville BJE200XL is a perfect choice as it perfectly combines practicality and functionality without sacrificing efficiency.
With high quality materials as is with the rest of the Breville juicer lineup, you are assured that it is highly durable. In addition, it has got a large feeding chute and is easy to clean making it perfect for those who are always on the go but would want to start eating and drinking healthier.
Here are more details worth knowing:
700-watt motor
Maximum extraction at 14,000 RPM
Heavy-duty compact juice fountain
Centered knife assembly
Extra-large 3-inch centered feed tube
Stainless-steel micro-mesh filter
Dishwasher safe parts
Comes with custom cleaning brush
1-year limited warranty
Omega VRT350HD Vertical Masticating Juicer
This juice extractor is especially designed for those with small spaces as it is a vertical unit. However, the juicing process remains a dual stage process in order to extract the maximum amount of juice from the fruits and vegetables. Therefore, it also helps prevents nutrient loss and oxidation.
Experts praise this for being a powerful but versatile juicing machine at a reasonable price. Another great thing about this juicer is that despite having a small footprint, it still produces a large amount of juice in one go. Here are its other specifications:
Features low-speed juicing
Capable of juicing even wheatgrass
Squeezes instead of grinds
Dual stage juicer
Prevents foaming
Three settings – on, off, and reverse
Oversized spout
Auto cleaning system
Compact base
Juicing truly brings in a lot of benefits for as long as it is done properly. Know your medical conditions and research which fruits and vegetables will work best for you. If you have the time, you might want to check in with a naturopathic doctor first to know which ones you should eat and drink more of.
For those in a healthy state, medical experts say to get a good mix of fruits and vegetables daily to make sure you get enough of all the good stuff from juicing.