One of the most popular waffle makers currently produced by Hamilton Beach, the 26020 can make large portions of restaurant-quality waffles without the high price of going out to eat. Featuring a timeless waffle maker design and an easy-to-use interface, the Hamilton Beach 26020 is popular among cooking enthusiasts and novices alike. This kitchen appliance, waffle iron is capable of making fluffy, home-cooked waffles in less than two minutes, and crispy, southern-style waffles in as little as three.
The device comes packaged with dual indicator lights that signal the user when to apply the batter, and also when the device has finished with its baking cycle. This removes the guesswork from waffle making so you can focus on preparing other parts of your breakfast instead of constantly minding the waffle maker. The indicator lights are located on the top of the machine, which makes them easy to see when the device is in use.
Hamilton Beach 26020 Belgian Style Waffle Maker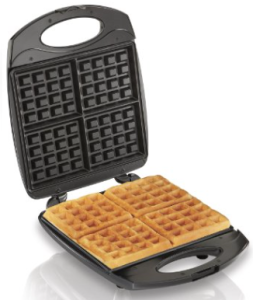 Specifications
The Hamilton Beach 26020 is an electric waffle maker
Measures 5.5 x 12.5 x 14.9 inches
Weighs one pound
Shipping weight: seven pounds
Model number: 26020
Makes Belgian-style waffles
Power indicator light
Preheat indicator light
Nonstick grid
Four waffle capacity
Stainless steel construction
Black and silver color scheme
Upright storage
One-year limited manufacturer's warranty on parts and labor
Features and Benefits
The Hamilton Beach 26020 makes cleaning and maintaining the waffle maker much simpler by installing a non-stick grid, so the waffles can be removed with ease. This also makes it much easier to clean the device, because caked-on batter will be less likely to stick to the waffle iron. The 26020's waffle iron is rated for several years of use, which guarantees the nonstick surface will continue to keep batter from sticking to the device for a long time. The device also has an outside batter channel that helps keep batter inside the device when heat and pressure is applied. Some models of Hamilton Beach 26020 offer a removable, dishwasher-safe grid for even easier cleanup, but washing the device off in the sink is quick and simple enough as it is.
Another feature of the Hamilton Beach 26020 is that it produces square, Belgian-style waffles. Belgian waffles have been becoming more and more popular over the past ten years, which has led many consumers to purchase dedicated Belgian waffle makers. With the 26020, you can produce four, large Belgian waffles for a fraction of the price it would cost at a restaurant.
Pros
The device comes with an easy-to-clean nonstick grid that can be cleaned with minimal effort
The Hamilton Beach 26020 comes two bright indicator lights that signal the user to add batter at an optimal time. The lights also show when the power is active and the grill is hot
The manual is very thorough and it helps the user if they ever need assistance when operating the device
The waffle maker has a latching handle, so the device is easy to store in the upright position after use
The interface doesn't come with any extraneous buttons, so the user doesn't have to worry about learning how to operate a complex interface. Instead, they can simply focus on making and enjoying their waffles
The device has a classic black and silver stainless steel design that's suited to any style of kitchen
The Hamilton Beach 26020 is compact enough to be stored flat in a drawer, or standing in the upright position if you prefer.
The waffle maker comes at a much more competitive price than other products with similar features
Cons
The grates are not removable, so the user is unable to take them out of the device and wash them in a dishwasher. However, the device isn't too bulky to easily be washed by hand
Some users have complained that the device cooks waffles unevenly, which can be a problem if you're trying to bake your waffles to a consistent color
The griddle doesn't have any sort of exterior lip, so batter tends to ooze out when pressure is applied to the device. This can be inconvenient, and it can make cleanup a bit harder
Final Verdict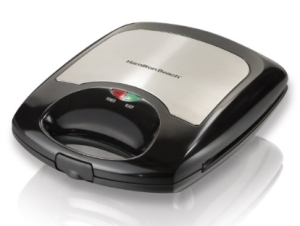 An excellent option for anyone who's looking for a home waffle maker, the Hamilton Beach 26020 can produce high-quality waffles quickly and easily. Many users prefer the 26020 to nearly every other type of waffle maker because of its power and ease-of-use. Check out these recipes for waffles: here and here. Reviewers also like the 26020 and the device receives a score of four stars or higher in over 75 percent of all reviews. Whether you're looking for a dedicated Belgian waffle maker, or you simply want an efficient and cost effective device to make breakfast every morning, the Hamilton Beach 26020 is a great choice.