Pressure cookers are undoubtedly useful additions to any kitchen. However, many people are nervous about handling pressure cookers, so they can't take advantage over their super-fast cooking times and energy savings. The Instant Pot IP-DUO60 is just the ticket for cooks who want to simplify and speed up cooking times without using large pressurized metal pots on their stove. The Instant Pot IP-DUO60 is more like a crock-pot or rice cooker in appearance and functions, and it has a straightforward and familiar control panel that takes the mystery out of pressure cooking.
Pressure cookers work by providing a sealed environment in which to heat water along with your food. Under pressure, the heated water becomes superheated and cooks food much faster than by simply steaming, or even boiling. By requiring less water to make the steam, ingredients in the cooker are less likely to become soggy and over soft, and keep more of their vitamins and other nutrients.
Instant Pot IP-DUO60 7-in-1 Programmable Pressure Cooker
Specifications
Automatic electric pressure cooker, slow cooker, rice cooker, steamer and warmer
13 x 12.6 x 12.2 inches
6 quart capacity
1000-watts of power at 120 volts
Stainless steel pot
Brushed stainless finish on exterior
Weighs 12 pounds
Shipping weight 17 pounds
UL and ULC listed appliance
Delayed cooking timer
7 different preset cooking functions
Dual pressure settings
Automatic keep warm function
Manual keep warm function
Doubles as a yogurt maker
Three-ply stainless steel bottom
Includes steam rack, rice paddle, soup ladle, measurement cup, and condensation collector, and multi-language instructions
Features and Benefits
The Instant Pot IP-DUO60 is called a 7-in-1 cooker, because it integrates the functions of a bevy of standalone kitchen appliances. It can take the place of a separate pressure cooker, crock-pot, rice cooker, steamer, sauté pan, yogurt maker, and food warmer. The unit has a big, easy to read and operate touchpad control panel on the front that lets you program the appliance using fourteen built-in programs that bring just the right amount of cooking to bear for the correct amount of time. There are three additional adjustable modes that let you sauté, brown, or simmer, which expands the range of dishes you can prepare in one appliance greatly.
When the Instant Pot IP-DUO60 is used as a pressure cooker, it can speed cooking by 2 to 6 times, which puts your completed meals on the table faster while it also saves you money by using up to 70 percent less energy. Next to the energy and time saving, using a pressure cooker is more healthy since more vitamins and nutrients will stay in your food.
The Instant Pot IP-DUO60 incorporates a safety lid lock that prevents the user from accidentally opening the appliance when it's pressurized, and also has a pressure regulator that keeps the pressure under a safety limit of 15.2 PSI. The appliance can even sense if the lid is leaking, and shuts down the appliance for additional safety. If there is ever a need for the inner chamber to release excess pressure, the overflow is released automatically into another enclosed chamber instead of onto your counter, or even yourself.
Pros
Pressure cooking uses less energy to achieve the same results, saving both time and money
The removable cooking pot is made from stainless steel instead of lighter metal with a non-stick coating applied. Non-stick coatings can degrade over time and flake off in your food. The Instant Pot liner is solid all way through, and can be scoured without damaging it
All-in-one usefulness makes it perfect for small kitchens in places like dorm rooms and campers
Delayed start timer lets you put ingredients in cooker in the morning and return home in the evening to a fully-cooked meal. Find recipes here.
Pressure cooking ingredients can deliver a fully cooked meal in less than an hour
Keep warm function lets you keep completed food dishes ready to eat for hours after completion without burning or drying out
Can also make home made yogurt
Unlike old-fashioned jiggler pressure cookers, the Instant Pot IP-DUO60 is almost silent during operation
Keep-cool exterior is safe to leave out on your counter without fear of inadvertent scalding
Cons
Electric pressure cookers can't achieve the highest pressure levels stovetop cookers can produce
Final Verdict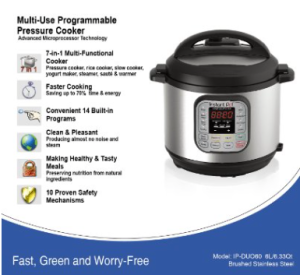 The Instant Pot IP-DUO60 pressure cooker is one of the biggest selling and most highly rated kitchen appliances we've reviewed. A remarkable 93 percent of reviewers give the Instant Pot four stars or better, while a full 80 percent give it a full five stars. Users are quick to point out the versatility and reliability of the IP-DUO60, and say they use it on almost a daily basis for one thing or another.
Users like that fact that the removable interior cooking pot is made from solid stainless steel instead of a softer metal with a non-stick coating. Non-stick coatings can be delicate when you're washing them, and people worry about the impact on their health from small amounts of the coating getting in their food.
In addition to the easy to clean and safe nature of the Instant Pot's stainless steel liner, users also report that they like being able to purchase additional liner pots as an accessory, allowing them to cook one batch of food, change out the pot, and cook another before emptying or cleaning the first pot.
The Instant Pot IP-DUO60 is very highly recommended.