As experts frequently say, if you want to make your cooking and baking life easier, you have got to get yourself a KitchenAid. This remains true up to this very day as KitchenAid continues to give us not just highly efficient and functional small kitchen equipment but beautiful ones as well too.
The Artisan features the iconic capability and reliability of KitchenAid stand mixers but they have put a beautiful twist as it comes in 20 different colors. In addition, it features sleek lines and a taller height but maintaining the same footprint that makes it perfect for just about any kitchen countertop today.

KitchenAid Artisan Stand Mixer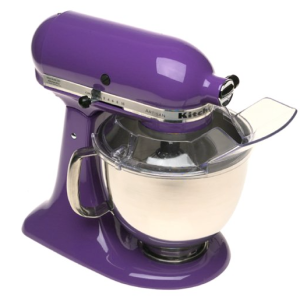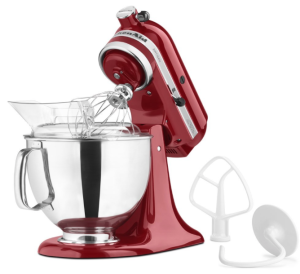 Click for the Price here!
Specifications
The KitchenAid Artisan whips, blends, beats, kneads, and mixes. It just continues to prove KitchenAid's passion in making all things easier for every cook and baker. What is even better is that they have an amazingly good customer support to back all the good things about this stand mixer. Read on below to more of the Artisan's specifications:
325 watts
10-speed function
Variable speed
All metal drive system
Removable bowl
Whips, mixes, kneads, beats, and blends
5-quart stainless steel bowl with comfortable handle
Tilt-head design
Yields 4-1/2 bread loaves or 7 pounds mash potatoes
Polished stainless steel bowl finish
Non-hinged hub cover
Pouring shield
C-Nylon coated dough hook
Nylon coated flat beater
6-wire whip
Easy to clean, wipes clean
Dishwasher-safe parts and accessories
Shock resistant
Made of zinc and stainless steel
Non-slip base
Safety lock
Colorfully painted surface treatment
Package includes instruction manual, accessories, and recipe book
Weighs approximately 26 pounds
Measures 14.3 x 14 x 9.3 inches
Comes with 1-year manufacturer total replacement warranty
Features
The KitchenAid Artisan continues to prove its worth by continuously gaining approvals from both experts and beginners. Experts say that it works excellently with high-volume baking which increases their productivity and profit.
On the other hand, beginners love it because of its ease of use and modern look. If you are a beginner and has started out or already using the KitchenAid Artisan, then lucky you.
Here are some of its most well-loved features:
Capability to Hold More Attachments
KitchenAid is actually famous for this. There might be other brands with increasing popularity for their stand mixers but KitchenAid remains to be the best simply because they value practicality and versatility.
This stand mixer is famous for KitchenAid's power hub which turns this supposedly stand mixer to an all-around kitchen equipment that has the capability to turn into a blender, grinder, slicer, shredder, roller, cutter, food processor, and even an ice cream maker. With all these being said, one can easily turn from a baker to a pasta maker with no fuss.
Durable and Ergonomic Design
KitchenAid is famous for kitchen equipment that can last a lifetime because of its durability. For the Artisan, the 5-quart stainless steel with a capacity of holding up to 9 dozen cookies or 4 loaves of bread comes with a comfortable handle. With this, removal of the bowl is extremely easy.
In addition, the stainless steel bowl is dishwasher safe along with all the attachments and accessories which pave way for easy cleanup after the numerous batches of baked goods.
This KitchenAid Artisan also comes with a tilt-head design which gives bakers quick and easy access to the bowl or attachments. Therefore, one can easily check the consistency or add ingredients if necessary or even just to rest and let the batter sit for a while. The head securely locks in place for a consistent and safe operation throughout the mixing or beating or kneading process.
High Performance
With a 325-watt motor, this is able to offer varying mixing speeds to suit just about any recipe in the book today. As a result, it is no wonder this stand mixer can perform excellently regardless if for family use or for more heavy-duty tasks as would be expected during events and occasions.
In addition to the powerful motor, this features a 59-point planetary mixing action which basically means that this makes 59 touchpoints per rotation. This results to thorough mixing of all the ingredients from the sides and into the middle of the bowl.
Pros & Cons
KitchenAid has always been the topic of stand mixer reviews and hence, some negativity here and there just cannot be prevented. To know the real cons (if ever there is) of this KitchenAid Artisan, here are some of the most famous concerns:
Lubricated Bearings – Some consumers are actually concerned that food-grade grease just might find their way into the batter or mixture which would simply be unhygienic and utterly disgusting. While we have not actually heard this happen, it is worth knowing that all stand mixers have lubricated bearings. You just need to be vigilant in watching your batter or mixture and of course, checking and cleaning your stand mixer every now and then.
Dead/Defective Motors – Most complaints date back to 2007-2009 so by this time, you are out of whatever the manufacturing problem there was. However, it is also worth noting that KitchenAid quickly replaced all those with motor problems. KitchenAid actually has one of the best customer services as far as kitchen equipment is concerned. 
Final Verdict
Click here for the Price!

The KitchenAid Artisan is a true artist and gem meant to be the highlight of everyone's kitchen. With plenty of colors to choose from, you can make this durable stand mixer the centerpiece. It is one solid piece of kitchen machinery that you would never want to trade for anything else.