KitchenAid released the Classic stand mixer perfect for those who want no-fuss mixing for standard recipes. However, KitchenAid raised the level a bit as they packed more features than anyone would normally expect from a classic stand mixer.
Just like what everybody else who got to own a KitchenAid mixer before, you do not know the true beauty and art of mixing until you have owned a KitchenAid. And once you have tried KitchenAid, you will never go back. Expect to have the same experience with the Classic stand mixer.

KitchenAid Classic Stand Mixer
Click for the Price here!
Specifications
Creating a stir in the baking world today is the KitchenAid Classic mixer. It is the classic that never runs out of amazing features. From its wondrous capacity to its beautiful stature, this Classic Stand Mixer by KitchenAid wows bakers and critics alike.
Read below to learn more about the full specifications:
275 watts
10-speed mixer
Available in 9 colors
Tilt-up head design
Stainless steel bowl
Single beater style
59-point planetary mixing action
Power Hub with more than 15 optional attachments
4.5-quart bowl with a capacity for making 3 loaves of bread or 6 dozen cookies
Comes with three handy tools – wire whip, flat beater, and dough hooks
Manual guide with instructions, mixing tips, and 67 recipes
Dishwasher safe
Measures 13 8/9 x 8 2/3 x 14 inches
Weighs around 24.9 pounds
1-year limited warranty
Features
The KitchenAid Classic may not be the most classic looking mixer in the market shelves today but it definitely is the most practical. And by practical, we mean a stand mixer that is easy to use, extremely efficient, easy to clean, and probably the last one you will ever buy unless you are planning to open up a baking business in the future.
Here are more reasons to love this product:
Heavy Duty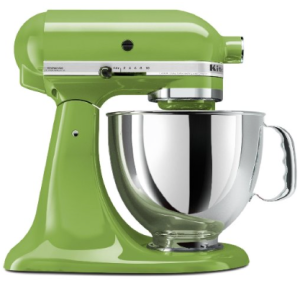 KitchenAid is famous and has dominated the kitchen equipment department for quite some time already for a very good reason. They are heavy duty, reliable, and very durable. Would you even believe that some have used their old attachments with this new and modern stand mixer?
Yes and they have used it without a single problem thanks to the power hub, therefore, transforming this mixer to an all-around food processor almost instantly.
Despite being a classic stand mixer, this works quietly even with doing batch heavy-duty work, hence, allowing a baker to spend more hours in the kitchen without having to wake everybody up.
The Amazing 59-Point Planetary Mixing Action
This basically means that the mixing technique used in this particular stand mixer entails 59 touchpoints per rotation around the bowl which ensures thorough ingredient incorporation. Whichever tool or accessory you decide to use, this mixing action makes sure you will never miss a single spot for an even mixture or batter.
In addition, mixing action is further enhanced by whatever speed a baker will be choosing among the 10 available speeds. Through this, you can tackle any recipe without having qualms if your stand mixer can handle it or not.
Highly Versatile
Whether you plan to do bread, cookies, meringue, pies, frosting, or even candies, this KitchenAid Classic would not fail to satisfy you with its high versatility. You already know that this stand mixer has the option to hold more accessories and tools, hence, the more capabilities.
In changing tools and accessories, you would want to soak the tools and accessories right way in mild soapy water for easy cleaning. For the body, wipe with damp cloth and dry.
Pros & Cons
There is no single stand mixer that got away without some sort of dissatisfaction from a few consumers. This is a simple fact that most kitchen equipment manufacturers have learned to accept.
With regards to this KitchenAid Classic mixer, a few consumers who bought it think that it does not do so well with homemade breads and especially the thick dough. However, most consumers have literally tried every dough recipe there is without a single problem.
Another concern raised was that this stand mixer is quite heavy and that the bowl is quite difficult to remove. However, remember that this could be due to the safety design so that the bowl would not exactly fly away once the machine is turned on.
Final Verdict
Click here for the Price!

Do not be fooled by the name of KitchenAid Classic. It is called a classic but it comes with a modern twist making it more capable than we could ever imagine a classic. It is that stand mixer that every household ought to have. It is basic yet can perform heavy duties assigned. It looks elegantly designed yet is extremely easy to clean.