It is the handheld mixer that bears the iconic status when it comes to kitchen mixers and it continues not to disappoint with an amazing lineup of features. The KitchenAid KHM920A Architect 9 Speed mixer continues to offer utmost efficiency most especially coming from small kitchen equipment.
Whether you are looking for a hand mixer for your regular kitchen experiments or aiming to do some heavy duty work for your home baking business, the Architect 9 Speed KHM920A by KitchenAid would not disappoint and will surely help you achieve your kitchen goals.

KitchenAid KHM920A Architect 9 Speed Mixer
Click for the Price here!
Specifications
It is lightweight yet totally efficient, easy to use yet modernly updated with technology, and truly gets any job done. It looks unquestionably beautiful with its sleek design and offers various speed functions that one would only otherwise see come from professional mixers.
Maintaining their iconic status, KitchenAid continues hand mixer innovations for the benefit of consumers. The Architect Series actually come in two speeds. For now, we will take a look at the KitchenAid Architect 9 Speed's wonderful specifications and discuss it even further down below for the benefit of those who are somehow confused on which specific product would suit them best:
9-speed electronic control
Non-Clogging Air Vents
Digital Hand Mixer Controls
Digital LED Display
Soft-Grip Handle
Simple fingertip controls
Soft Start function
Lightweight DC motor
Locking Swivel Cord
Stainless Steel Turbo Beaters
Stainless Steel Liquid Blender Rod
Easy Beater Eject Button
No-Tip Heel Rest
Comes with user manual
Package includes hand mixer, turbo beater accessories, dough hooks, liquid blender rod, whisk, and an accessory bag
Features
As experts have put it, this KitchenAid KHM920A mixer is simply perfect for those who just do not want a stand mixer for whatever reason. At its price of a little under $100, one can probably get an entry stand mixer but then you just cannot beat a KitchenAid mixer. Read on to understand why
Outstanding Features
As expected, this KitchenAid KHM920A comes with a long list of great features to make the mixing process easier for anyone who loves experimenting in the kitchen. This small and compact kitchen tool comes with a Clean Touch Speed Control Pad which makes it easy even for small fingers to control the speed. It also comes with an Easy to Read Speed Indicator and an electronic sensor that automatically adjusts power in order to give a steady mixing speed for better batter consistency.
There also are air vents strategically located to prevent the ingredients from clogging during the mixing process.
Ease of Use
Despite the various high technology features of this powerful handheld mixer, it remains easy to use with the speed indicator and the oversized beater ejection button which makes removing the beaters extremely easy even if to be done single-handedly.
During mixing, one can benefit from the elastomer soft-grip comfort handle which makes holding this mixer extremely comfortable regardless of the mixing speed. If at times, you have to stop, the non-tip heel rest will ensure that the mixer is stable.
For cleanup, this is carefully designed in such a way that it discourages ingredients from getting trapped in the various parts of the mixer. Find here some of the best baking recipes to try out.
Lots of Accessories
This handheld mixer by KitchenAid comes with a lot of accessories including:
Turbo beater – Avoids clogging and minimizes food collection and is dishwasher safe.
Liquid blender rod – Perfect for making smoothies, soups, and even sauces and wipes dry.
Dough hooks – Ideal for bread making and are also dishwasher safe.
Pro Whisk – Gives perfectly smooth whipped cream all the time.
Pros & Cons
The very few people who talked about the cons of the KitchenAid Architect 9 Speed are those who probably did not read the fine print and had no idea that the Architect mixer Series comes in two types – the 7-speed and 9-speed. Of course, if you want more variety, you have to choose the 9-speed Architect Series.
A great tip to remember here is that if you want a whisk, keep in mind that it only comes with this version which is the KitchenAid Architect 9 Speed KHM920A and not the 7-speed version. Another thing that concerns some consumers who have bought this hand mixer is that the box says energy saver though they are not exactly sure how that works.
Some think that the energy saver could be the reason why the mixer slows down and speeds up during the process. For this, be reminded that this mixer comes with an electronic sensor that automatically adjusts the speed depending on the deemed need.
Final Verdict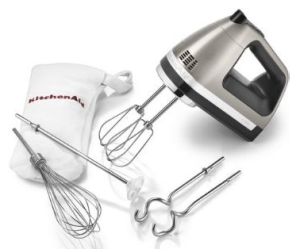 Click here for the Price!

We've rated this kitchen mixer with 4.5-stars, since you can hardly find a bad review about the KitchenAid KHM920A Architect 9 Speed mixer. Most are all out praises for such a wonderful product. Some even say that this is the best so far among all the hand mixers by KitchenAid that they have tried.
It still all comes down with the KitchenAid KHM920A mixer being an extremely well-built, efficient, and reliable handheld mixer that you would not trade with anything else once you have tried using it. It just cannot get any better than this.