Juicers like the Omega J8006 Nutrition Center are quickly becoming essential appliances in every kitchen. Their popularity is soaring due to their ability to deliver tasty and healthy juice drinks and smoothies that contain all the vitamins and minerals available from fruits and vegetables, but without any additives, chemicals, preservatives or sweeteners. People love being able to make their own juice from the freshest ingredients, instantly, instead of purchasing expensive, store bought juices. The nutritional value of all juices begins to deteriorate the moment that the juice is produced, so it's always better to make your juice fresh, as you need it, just like any other food product. The Omega J8006 lets you quickly produce multiple batches of delicious and nutritious juices from any ingredients you prefer, and its slow speed masticating operation preserve the maximum amount of flavor and health benefits.
Omega J8006 Nutrition Center Juicer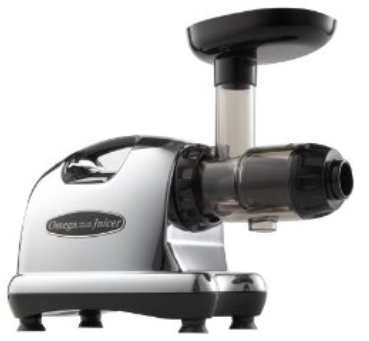 Specifications
Masticating dual-stage juicer
Auto pulp ejection
14.5 x 6.5 x 15.5 inches
Chute measures 1.5 x 1.5 inches
80 RPM juicing speed
Runs on 110-volt circuit
150 watts
Weighs 19 pounds
Includes 6 nozzles for pasta shapes
UL- approved, CUL-approved
15-year manufacturer's warranty
Features and Benefits
The Omega J8006 Nutrition Center Juicer is a runaway best seller for juicers, and it's easy to see why. Unlike centrifugal juicers, which are machines that depend on a spinning blade to finely blend your ingredients, masticating juicers produce juice by crushing and grinding. The Omega is a very powerful masticating juicer, and it preserves the greatest amount of the nutritional and antioxidant properties of the fruits and vegetables that you put in it. Centrifugal juicers produce a certain amount of heat due to friction when their blades spin to puree fruits and vegetables, and heat can break down important enzymes that masticating juicers preserve.
For the serious juicer, the Omega J8006 delivers great dual stage juicing; but even if you're not concerned as much about the difference in the amount of enzymes and anti-oxidants in your juice, there are many reasons to prefer slow juicer like the Omega. The ability of the unit to extract the maximum amount of usable juice from any ingredient is bound to save you money on ingredients in the long run, and users that need to share the kitchen with their juicer while it's running will appreciate its quiet operation compared to similarly powered centrifugal juicers.
Of course the Omega J8006 isn't just a juicer. Besides making healthy and nutritious juices from fresh ingredients, the unit can also do double duty as a very capable food processor. It's versatile enough to grind fresh coffee, and can even produce fresh pasta using included extrusion attachments. Omega calls their units Nutrition Centers, and it's easy to see why.
Pros
Masticating juicer gets all the nutrients and flavor out of the ingredients
Gear reduction results in the equivalent of a 2-horsepower motor
Low speed mastication process minimizes foaming
Dual stage masticating process removes the maximum possible amount of nutrients, vitamins, and minerals, delivering a healthier product for less money
Unlike grinding, low speed juicing doesn't degrade the health benefits of the juice, preserving vital antioxidants
Powerful motor can handle hard or soft fruits and vegetables for a more versatile selection of ingredients for your recipes
Unit can do double duty as a coffee grinder, or a spice grinder
Unit also can make past extrusions like spaghetti, linguine, and other shapes with included pasta nozzles
Dual stage juicing process leaves very dry pulp, easier and less messy to dispose of
Quiet operation
Easy to operate and to clean, making it more likely that you'll use it every day
Cons
Input chute size makes it necessary to cut up your ingredients first
Some plastic parts can become discolored from certain ingredients if you don't wash them well enough after use
Final Verdict
The Omega J8006 Nutrition Center Juicer is a best seller, and it's one of the most highly rated kitchen appliances of any kind that we've ever reviewed. An amazing 90 percent of users rate the J8006 at four stars or better, and a full 75 percent rate it at a perfect five stars. Purchasers love the quiet, powerful operation of the unit, and say that they rarely encounter any fruit, vegetable, or even nut that can bog down the powerful motor. Users are split almost evenly between those that use the unit strictly as a juicer and those that also like the range of food processing operations it can perform. Both groups give the device high marks for both ease of use and high performance.
Since the Omega J8006 is fairly large and heavy, users report that they keep it on their counter for everyday use instead of stowing it away. Because the unit has a clean, modern appearance, people don't mind displaying it in their kitchen. Users also appreciate the unit's quiet operation. Kitchens can be busy places in the morning, and reviewers say they appreciate being able to use the juicer to make multiple batches for their household in the morning without being forced to shout over the noise of the juicer, and consider it a big plus. The Omega J8006 Nutrition Center Juicer is highly recommended.