The Reliable C30 ironing board has always been thought to be American made due to its solid construction. However, it should be made known that this ironing board is actually crafted in Italy. As Reliable puts it, this is an ironing board that is not just generically reproduced. It is made with passion by people who actually care enough to think of ways to make the ironing task less of a burden.
It may be more expensive than ordinary free-standing ironing boards but with this, you are sure that it can be the one and only ironing board you will have to purchase in this lifetime.
Specifications
The Reliable C30 ironing board may look like an ordinary ironing board with its utmost simplicity. The design is extremely simple but it holds more features that one can actually imagine. Here is a complete list of its specifications for you to understand why customers who have bought this think that is truly a delight to use:
Tube Frame Construction
Galvanized metal mesh screen
White powder coating
Wishbone Rear Legs for more stability
Ironing Station
Ergonomic design
Adjusts in height from 30 to 38 inches – 7-step adjustable
Folds down
Magnetic Locking System
Optional Cord Antenna
Comes with the finest cover and pad set – cotton polyester cover with 500 grams of felt
Measures 59 x 19 x 4.5 inches
Weighs approximately 16.2 pounds
Backed by a 10-year limited warranty
Pros
With close to 100 real customer reviews, the Reliable C30 was able to maintain an excellent 4-star rating despite its supposedly higher price than the others. Why do you think consumers continue to purchase this despite the fact that it is going to cost them a few extra dollars than what they probably had in mind?
Here are the key features that almost everyone mentions about this ironing board, the Reliable C30:
Outstanding Quality
Yes it cost a bit more but if one is to be objective about the price and the quality of this ironing board, it would be downright reasonable and even cheap most especially if we are to consider that this is hand crafted from Italy and not just locally.
The quality has to be attributed to the tube frame construction that therefore offers maximum stability and rigidity. Whether you are to use this for home or commercial purpose, it would not let you down.
In addition, there also are the single wishbone legs that are beautifully finished with a lead-free high white powder coating. Hence, you are assured that your ironing board will continue to look beautiful for many years.
The Ergonomically-Designed Ironing Station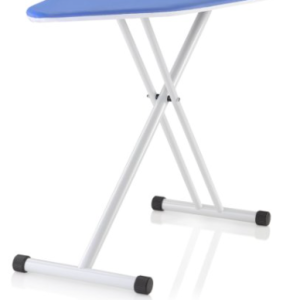 Most ironing stations today come with an iron tray for additional convenience. What makes this iron tray of the Reliable C30 different is that it is permanently riveted to the board underside for ultimate safety. With this, one can let go of worries of what will happen if someone accidentally bumps into the ironing station.
To prove the strength and high capacity of the ironing station, Reliable even placed a container full of water in it. As expected, the ironing station did not even flinch. In addition, this ironing station is not just about strength but it also boasts of an ergonomic design where the iron will sit on a comfortable angle for the wrist, thereby reducing wrist strain.
The Long Warranty
If you are to check the current warranties that come with most the ironing stations today, most usually come with a standard 1-year limited manufacturer's warranty. You would be lucky enough if you find something that offers more than that. But with Reliable C30 ironing board, you get an amazing 10-year warranty on the frame.
Cons
The Reliable C30 is without a doubt one of the best ironing board stations in the market today. However, some consumers still think that it could have been better simply because there were no instructions included in the box.
As far as durability is concerned, this is indeed sturdy and suitable even for heavy duty ironing tasks. However, the excitement of most consumers was cut short by the lack of an instruction manual to help them properly assemble the ironing board.
Final Verdict
The Reliable C30 is now considered the designer ironing board because it goes simply beyond the basic features. Yes it serves its purpose but it does so while providing utmost comfort and convenience to the user. It may cost more but it is definitely well worth those extra dollars.
If you have previously owned a cheap and less expensive ironing board, then give yourself the chance to try this out in order for you to fully understand the differences we all are talking about.