A professional ironing workstation built for the consumer market, the Rowenta DG5030's high-powered steam and great functionality is making it a favorite among homeowners everywhere. The DG5030 is especially popular with sewing enthusiasts because you can easily press seams, smooth fabrics, and pre shrink fabrics that can't be washed. The Rowenta steam-ironing system is also great for anyone who sends a lot of clothes to be dry-cleaned. You can cut your dry-cleaning bill in half, or remove it from your expenses entirely, by using the DG5030 for daily ironing.
Rowenta has been a household appliance name in Europe for many years, and they are always on the lookout for new technology to incorporate into their ironing systems. With the DG5030, Rowenta has combined the convenience of a regular steam iron with the advanced design of a professional dry-cleaning system, to make a superior product for the consumer marketplace.
Specifications
The Rowenta DG5030 is a professional-grade steam iron and mounting station
1750 watts of power
33-ounce water tank can be used continually for an 1-1/2 without having to be refilled
Can be used in the upright position
Includes a six-foot long steam cord and a twelve-foot long electrical cord
Shipping weight of 11.4 pounds
Soleplate is made from stainless steel
Measures 12.75 inches by 10 inches by 11 inches
The trigger to release steam is located on the handle
Illuminated on and off switch
Body is made out of durable plastic and has a white and gray color
The DG5030 offers continuous high-powered steam at the touch of a button, making ironing fast and almost effortless. Even the toughest creases and wrinkles can be smoothed out with the steam stations steam blasting features (wiki). The 33-ounce water tank means that you won't run out of steam when ironing big piles of clothes, even while using an almost continuous jet of steam. The continuous steam will help to complete any amount of ironing in almost half the time it would take with a conventional iron. More steam means less crumpled up bits of fabric, which will help accelerate your ironing time.
Pros
The base of the ironing system is compact and can fit on most ironing boards
The base can also be placed on the floor, depending on the user's preference
The high-powered steam function helps to penetrate fabrics, making ironing much faster than with a conventional steam iron
The Rowenta system produces three times more steam than other irons in the same price range
The iron comes with variable steam control, so you can adjust steam output to suit the fabric you're ironing. The steam options range from powerful steam for heavy fabrics, to light steam for delicate fabrics and linens
The control panel is easy to use and doesn't have to be constantly fiddled with
The iron is great for steaming furniture and heavy jackets
The power cord is extra long, so you can set up your ironing board wherever you want
Cons
The Rowenta ironing system takes a while to warm up, and the 33 ounce water tank takes a while to fully pressurize
If you hold the steam button down for too long, water will begin to build up on the fabric you're ironing
Final Verdict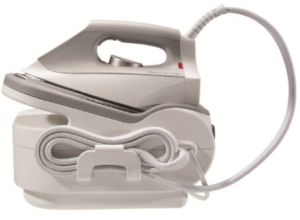 One of the most popular ironing systems on the market in Europe, many homes in the United States and Canada have started adopting the DG5030 and similar Rowenta models because of their ease-of-use, efficiency, and improved ironing times. Despite a few flaws, the DG5030 is one of the best ironing systems currently being manufactured by Rowenta and will come as a welcome addition to any modern home.