With dozens of great ice cream brands readily available in the market today, why else would anyone think of buying an ice cream maker? While it is true that it is definitely more tedious to make your own ice cream than walk to the nearest grocery store to buy a pint, it is most certainly healthier and cheaper.
There are brands that introduced healthier ice creams but they are way more expensive. This is the reason why there is this craze today about ice cream makers. Because come to think of it, if it is healthy ice cream you want, it would not get any healthier than making your own right at the comfort of your home.
Are you scared that it might be hard and you have no idea on how to mix all the ingredients together? We have compiled here the best ice cream makers today that will convince you that making homemade ice cream is not as hard as it used to be.
In fact, with the help of these ice cream makers, all you have to do is gather the ingredients and put it inside the machine. Count a few hours including freezing time and you have a healthy ice cream that does not cost much but especially made for the whole family.
Cuisinart ICE-21 Frozen Yogurt Ice Cream & Sorbet Maker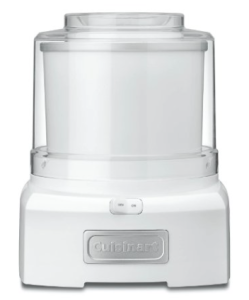 Cuisinart has always been a favorite kitchen appliance brand. From cooking to making awesome deserts, it never fails to give us better options that in turn make our lives in the kitchen easier and more enjoyable.
The Cuisinart ICE-21 ice cream maker is cheap, easy to use, and easy to clean that it came as no surprise when online stores declared this as their #1 bestselling ice cream maker. This features a new mixing paddle that now makes frozen desserts ready within just 20 minutes or even less. It does not cost much but it is equipped with a double insulated freezer bowl and it has a large capacity making this perfect even for large families.
Basically, this is a no-fuss ice cream maker of Cuisinart that eliminates the need for rock salt and ice, therefore, trimming down preparation and cleanup time.
Hamilton Beach 1.5 Quart 68881 Ice Cream Maker
This is simply perfect for small families. The Hamilton Beach 68881Z is lightweight making it easy to use. It produces a soft serve consistency like the one that you usually buy on the park or at the corner street but without the preservatives or other sorts of mystery ingredient to make it even more tasteful.
This great ice cream maker is a 1.5 quart freezer-bowl model. Hence, the process goes on in a sequence of pre-freezing, pouring, and pressing the button to start the ice cream making process. Consumers who bought this like the fact that it is easy to use. Given that the only button is an on and off switch, this raises no confusions as to how to operate it.
The Hamilton Beach ice cream maker also comes with a manual with recipes. Make sure to read the manual before using this especially with regards to the pre-freezing instructions in order to make the best homemade soft-serve ice cream.
Cuisipro Donvier 837409W 1-Quart Ice Cream Maker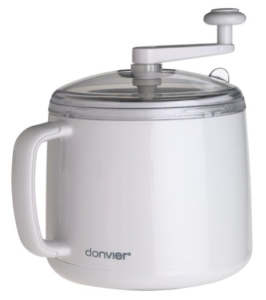 With a stellar 4.5-star rating after more than 100 real customer reviews, this has totally proven itself to be worthy of being included in our list. It is affordable and customers who bought this find that this is indeed a good way of bringing the family together whether for picnics or for home use.
Unlike most ice cream makers today, this does not use electricity making it portable and highly suitable for outdoor picnics. Since this ice cream maker needs you to use and manage the hand crank, some think that it is tedious work. Truth is you only need to turn the hand crank every couple of minutes and not consistently all the time.
YayLabs Play and Freeze Ice Cream Ball Ice Cream Maker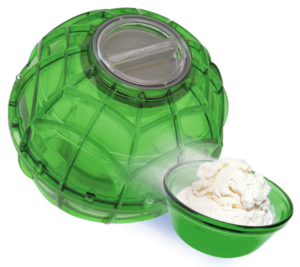 It comes in various cool colors and it stays true to its name of play and freeze. If you have kids who cannot live without ice cream, here is a fun way to make them involved in the ice cream making process. Best part is you can give them the healthiest ice cream possible.
Amazingly, this ice cream maker of YayLabs is not even expensive yet it produces store-quality ice cream. However, one probably will need the help of the kids as this entails a lot of constant and rigorous shaking and moving of the ball in order to produce great consistent ice cream. Experts say that it has to be shaken for at least an hour and that the ball tends to leak if not properly closed.
In order to make the ice cream, you simply need to put the desert mixture inside the aluminum cylinder inside the ball and put ice and salt on the opposite side of the aluminum cylinder. The ball weighs approximately 7 pounds making it easy to shake even with the contents.
Aroma 4-Quart Traditional Ice Cream Maker
This is a traditional ice cream maker that has a convenient motor and of course, the old-fashioned die-cast hand crank which will probably take you down the memory lane for a second or two.
However, despite the traditional and classic look, this does not come short of modern features. As a matter of fact, this ice cream maker gives users the option of making ice cream automatically or manually. If you feel like cranking up the handle for some good old ice cream mixing and making, feel free to do so. But if you want to see how powerful its motor is, then be prepared to be amazed.
This may be equipped with a bucket motor but it comes with an on and off switch which most bucket motors usually do not have. Hence, adding more functionality and ease of use.
Making your own ice cream at home is not just a healthy option. It also gives one the freedom of choosing his/her ingredients carefully. You can use your own or friends ice cream recipes! This most especially benefits those who are quite sensitive to a lot of ingredients and/or have allergies.