In many parts of the world, rice is the most important staple in every daily diet. People that really know rice know how important a standalone rice cooker like the Tiger JNP-S10U electric rice cooker can be. Cooking rice in a saucepan isn't difficult, but getting good results can be tricky. If you're tired of rice that turns out burnt on the bottom before the top layer is cooked, and of the mess that an overflowing pan can cause on your stove, the JNP-S10U might be the perfect appliance for you. By taking all the guesswork and much of the cleanup out of preparing rice, the Tiger electric rice cooker will allow you to easily add nutritious, delicious rice to your daily meals more often.
Many kitchen appliances are designed to perform a handful of different tasks so that you'll get more use out of them. This can often lead to problems with units that are too complicated for easy operation, and that don't do any one thing particularly well. Appliances like the Tiger JNP-S10U electric rice cooker avoid this problem by doing only one thing, but doing it perfectly. This makes operating the machine as simple as pressing a button, and streamlines cleanup and storage as well.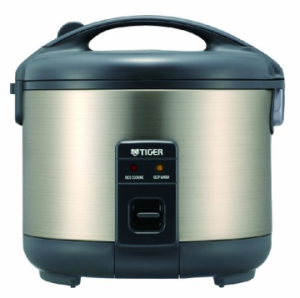 Specifications
Automatic electric rice cooker
5.5-cup uncooked rice capacity
Makes up to 11 servings of cooked rice at a time
Keep warm setting engages automatically at end of cooking cycle
Single button operation
Inner pan is non-stick coated
Removable steam vent
Removable inner lid
9.8 x 10.8 x 10.3 inches
Uses 505 watts of power at 120 volts
Shipping weight 8 pounds
Retractable power cord
Comes with measuring cup and spatula
Made in Japan
1-year manufacturer's limited warranty
Features and Benefits
One of the challenges of preparing rice is predicting its cooking time accurately so that it comes out at the same time as other ingredients and menu items. Rice prepared on the stove can be especially finicky and hard to predict, and it requires constant checking to make sure you stop cooking it before it's overdone. This distraction can keep you from paying attention to other, more complicated recipes at the very time they require the most work. The Tiger JNP-S10U electric rice cooker not only makes rice in a predictable and repeatable amount of time, it also has an automatic keep warm function that lets you concentrate on all the other meal preparation while it keeps your rice piping hot and ready to use. Because the rice is held at a steady temperature in a lidded pot, it won't dry out or become mushy while it's waiting to be served.
Standalone rice cookers like the Tiger JNP-S10U eliminate a lot of the hassles of cleanup after cooking rice. The overflow water from rice cooked in a saucepan makes a form of glue when it dries, and rice left in a pan can quickly get as hard as concrete if not washed immediately. The Tiger has a removable, metal cooking pot that's lined with a durable non-stock coating that makes cleaning much easier, and the interior lid of the unit is also removable to make rinsing it in the sink easy, too.
Pros
Makes perfect rice with the touch of a button
Automatically shifts to keep warm setting and maintains temperature for up to 12 hours
Non-stick removable inner pot for easy cleaning
Pot lid can be removed from unit for easier cleaning
Brushed metal and black plastic exterior looks great in any kitchen
Unit can make any kind of rice by varying the amount of water added to the ingredients
Makes great rice in small batches, or enough for a big gathering
Design has been manufactured for decades with a great track record for durability
Retractable cord makes it easier to stow the unit away when it's not in use
Cons
Lid handle isn't sturdy enough to use as a carrying handle
Final Verdict
The majority of purchasers of automatic rice cookers are very fussy about the quality of the rice they eat. The main reason they want a dedicated rice cooker is so that they can enjoy predictable, tasty results on a daily basis. That's why it's notable that over 85 percent of reviewers of the Tiger JNP-S10U electric rice cooker give the unit at least four stars, with well over 70 percent rating it at a full five stars. Users love the predictability and quality of the results. Many say that they have used a Tiger electric rice cooker almost daily for decades without a problem, which is a remarkable track record for this type of device (wiki). Many of the users report that the JNP-S10U recreates the perfect texture of the different types of rice and doneness that they became accustomed to when living in countries where rice is the most important food item, like Japan or the Philippines. The JNP-S10U is rated a best buy.