One of the most versatile appliances a chef can have, the West Bend TEM4500W takes the classic toaster and combines it with a portable heating tray to make a device that can cook almost every part of a balanced breakfast simultaneously. Many people use the TEM4500W to make their own breakfast sandwiches from the comfort of their own home. Now you can skip expensive trips to drive-thru restaurants by making your own delicious breakfast sandwiches at home. Whether you're in the market for a powerful toaster or a device that can scramble and poach eggs, the West Bend TEM4500W is a must-have for any modern kitchen.

West Bend TEM4500W Egg and Muffin Toaster
Click for the Price here!
Specifications
The West Bend TEM4500W is a toaster for eggs and muffins
Measures 12.4 x 19.5 x 10 inches
Weighs five pounds
Shipping weight nine pounds
Model number: TEM4500W
Runs on 1800 watts at 120 volts
Black and chrome color scheme
Light and dark control settings
Automatic shutoff features
Cancel button
Defrost function
Four wide slots
Toasts bread, bagels, croissants, buns, and muffins
High toast lifter
Slide-out crumb tray
Polypropylene housing
Egg cooker, poacher, and egg basket
Two meat trays
One-year limited manufacturer's warranty on parts and labor
Features and Benefits
The device comes with a large array of cooking options that allow the user to make nearly every part of their breakfast using a single device. The West Bend TEM4500W has four toasting slots that can be used on a variety of different items including English muffins, bread, and croissants. The toasting slots operate independently, so you can toast two different things at once without having to adjust the setting for the other side. Along with the four toasting slots, the device comes with a host of heating tray options that allow the user to cook eggs.
There are several layers over the heating tray that can be added or removed depending on what you're cooking, but device is set up with the heating tray on the bottom, a steamer tray above it, a round poaching tray on top, a warming tray, and then a lid with several steam vents. If you want to make scrambled eggs, you can remove everything down to the heating tray and cook the eggs directly on the heating element. If you want to poach some eggs, you can place the eggs directly on the round poaching trays for maximum effect. The warming tray is typically used for heating pre-cooked meats like ham.
Pros
The West Bend TEM4500W's egg poacher also doubles as a meat warmer which increases the overall efficiency of the device without adding any extra sections or drawing more power
The four toaster slots can be used to toast bread, bagels, croissants, buns, English muffins and a variety of other ingredients. The slots can toast almost anything because variable clamps come down on the ingredients after they're pushed down into the device, which holds the ingredients in place while they're toasted
The device comes with a defroster function that can be used to defrost breads, bagels, and croissants that have been left in the freezer. This setting can also be used to reheat things that have already been toasted
The user can select from a wide variety of heat settings ranging from light to dark. Each heat setting adds its own flavor and consistency to the ingredient, so users are encouraged to adjust the settings until they find a preset that suits their personal tastes
The West Bend TEM4500W comes with an egg tray that can be used to scramble and poach eggs. The device also comes with a basket that can be used to make up to eight hard or soft boiled eggs at a time
The meat tray can be used to warm pre-cooked meats, fruits, and vegetables while the toaster is in use
Cons
Some users have commented that the scrambled eggs function leave the eggs undercooked and frothy instead of properly scrambling them
When the device is first used there's a chance it'll produce an oily smell for a little while
The internal slots are shallow compared to other toaster because they are designed to primarily be used with English muffins, so other foods like waffles might stick out of the top
Final Verdict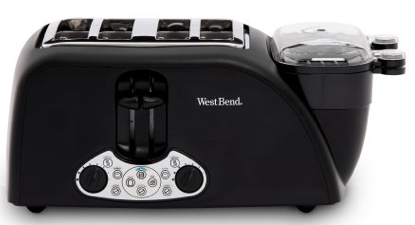 Click here for the Price!

One of the most unique items produced by West Bend, the TEM4500W egg and muffin toaster has quickly become the most popular alternative toaster on the market. The device's unconventional design and striking form-factor has made it a favorite among users and reviewers alike. The West Bend TEM4500W is highly praised, and we've given it a rating of four stars. Whether you're using the toaster (wiki) to make breakfast sandwiches, or to poach some eggs to go along with your toast, the West Bend TEM4500W is an excellent addition to any modern kitchen.