For many years the only company that consumers trusted to produce quality food processors was the American appliance brand Cuisinart. When the first food processors were introduced in the early 1970s, the device wasn't commonly called a food processor; it was usually referred to as a Cuisinart. After a short amount of time, many other companies adopted Cuisinart's familiar food processor design. To this day, many people still refer to a food processor as a Cuisinart.
One of the most popular additions to Cuisinart's large catalogue of food processors, the DLC-10S Pro Classic takes the strength and versatility of a classic Cuisinart food processor and combines it with a host of modern innovations. The device simplifies cooking, cleanup, and storage, and comes with many accessories that make operating the food processor a breeze. The device comes with a custom contoured spatula that aids in cleanup, and an easily removable disc stem that can be used to store disc blades.

Cuisinart DLC-10S Pro Classic 7-Cup Food Processor
Click for the Price here!
Specifications
The Cuisinart DLC-10S Pro Classic is a consumer food processor
Measures 7 x 11.25 x 14.5 inches
Weighs 13.5 pounds
Shipping Weight 15 pounds
7-cup bowl
Stainless steel medium slicing disc
Stainless steel shredding disc
Chopping and mixing blade
Dough blade
Small and large pushers
Detachable disc stem
Compact flat cover
Plastic spatula
How-to instructional video
Instruction booklet and recipe book
Full five-year manufacturer's warranty on the motor
Limited three-year warranty on the entire unit
Features and Benefits
Sometimes called the sous chef of the home kitchen, a reliable food processor offers a variety of functions including slicing, shredding, and mixing. The device is powerful enough to knead bread dough, but gentle enough to mince fresh herbs. The Cuisinart Pro Classic will makes you feel like you have another chef in the kitchen performing all the prep work while you focus on cooking and other parts of the recipe.
The Cuisinart DLC-10S features a shatterproof 7-cup work bowl that is also heat resistant, and it comes with dual ingredient pushers that can help insert ingredients of various sizes. The stainless steel disc blades can be removed and replaced with other types of blades to suit your culinary needs. The device also has push-button pulse control that helps the user process ingredients with high degree of finesse if a regular setting isn't suited to what they're processing.
Pros
The Cusinart DLC-10S comes with a 7-cup Lexan work bowl that is shatter and heat resistant, so the device is viable for heavy-duty use
The device comes with a number of blade attachments including: a stainless steel medium slicing disc, a stainless steel medium shredding disc, a chopping and mixing blade, and a dough blade
Every removable part of the device is dishwasher safe, so cleanup is much easier than with similarly priced devices
The device also comes with a custom-contoured spatula that makes scooping ingredients out of the food processor a breeze
The package comes with a recipe booklet, so you can start cooking using your food processor right away
The Cuisinart DLC-10S comes with an informative how-to video that goes over the basic uses of a food processor along with some safety procedures you should take into consideration when using the processor
The device has a very powerful motor that can handle almost any processing task from kneading bread dough to shredding cheese, vegetables, and meat
The food processor is much quieter than other processors in the same price range
The appliance has a large enough bowl to process almost any type of ingredient without pre-chopping
The device is very easy to use, and the on, off, and pulse settings are simple to operate
Cons
The device only has one spin speed, so you won't be able to use any recipes that require a fast or slow blade speed
The food processor comes with large and small feed tubes as well as large and small food pushers
The machine is lightweight, so it will slide around the table when in use if you aren't careful
If the motor isn't properly cleaned and taken care of, the device will have trouble blending thicker ingredients like cheeses, and kneading dough
Final Verdict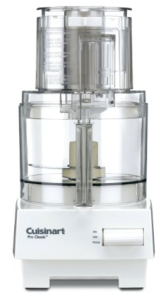 Click here for the Price!

One of the best food processors produced by Cuisinart, the DLC-10S Pro Classic 7-cup food processor gives you complete control over your ingredients without sacrificing the power Cuisinart food processors are known for (wiki site). The device is an excellent option for Cuisinart enthusiasts and amateur cooks alike. The DLC-10S Pro Classic is also very popular with reviewers, and we've given the device a rating of four stars. The Cuisinart DLC-10S 7-cup food processor is a best buy.
Watch this youtube movie to learn the basics and advanced techniques of food processors: