One of the best travel irons on the market, the Hamilton Beach 10092 takes all the elements of a great steam iron and incorporates them into a device that will easily fit into a travel bag. The iron doesn't behave any differently than a conventional iron, either. Plug the Hamilton Beach 10092 into any wall outlet, wait for it to heat up, and then iron or steam like you would at home. The iron gets hot enough to get out any wrinkles and even the toughest creases will come out when you apply a puff of steam.
The iron is practical and sturdily designed, perfect for anyone who's traveling and wants to look their best. This compact and capable unit is suitable for use when on vacation or traveling for business. Even if you aren't doing any traveling and you simply want a small iron for everyday use, the Hamilton Beach travel iron 10092 makes a great option. Many people who live in smaller apartments and don't have room to use or store a full-size iron prefer sleek travel irons for ease of use and their ability to stow away anywhere.
Hamilton Beach 10092 Travel Iron & Steamer
Specifications
Hamilton Beach model 10092 is a travel steam iron
Measures 5.36 inches by 3.64 inches by 7.8 inches
Continuous steaming features
Dual voltage 120 volt AC and 240 volt DC
Water capacity of 70 ml
800 watts of power
Stainless steel soleplate
Comes with product pouch and fabric brush attachment
Steam rate of nine grams per minute
The item weighs 1.8 pounds and has a shipping weight of 2.2 pounds
Folding handle
The Hamilton Beach travel iron & steamer is perfectly suited to traveling overseas or just a few miles down the road. The iron comes with dual voltage plugs, so even if you're traveling in Europe you can still use the iron. It heats up quickly and it doesn't use very much water so it won't leak when you put it back in your bag.
Pros
The Hamilton Beach 10092 iron is very compact and can easily fit in a suitcase or travel bag
It only takes one minute for the iron to be ready to steam
The iron is great for quick touch ups and is purpose built to steam vertical hanging clothing
Even though the iron has a small footprint, it produces enough power to iron effectively, so it doesn't have to go over the same spot over and over again
You don't have to wait for the water to completely dry out before packing the iron with your clothes. The iron produces concentrated bursts of steam, so there isn't as much water in the system that can drip out into your suitcase or bag as there would be in a conventional iron
The iron comes high recommended by travelers and works great in hotel rooms
Steam comes out smoothly when the iron is held in the vertical position
Cons
The cord isn't very long and it can be difficult to retract at times
The iron's lightweight design makes it more prone to tipping over
The water tank doesn't hold very much water and it will become clogged with sediment if it isn't cleaned out every so often
Final Verdict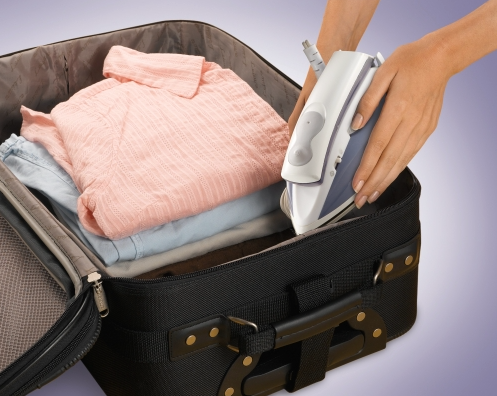 For travel irons, size is a big issue, which is why the Hamilton Beach model 10092 has been rising to the top of many review sites. On average, the travel iron gets four stars or more, depending on where you look. The Hamilton Beach is one of the best travel irons currently available, so if you're planning on taking a trip anytime soon, or you simply want a good back-up iron, the 10092 is a great option.