It is compact yet very useful. It looks modern and capable with some simple features yet it is as efficient as any high end toaster can be. These are just some of the things that one can expect from the Hamilton Beach 4-Slice Cool Touch Toaster. Best part is that this would not cost you a fortune!
With a price like this, it is very easy to have doubts about the functionality and durability of this toaster. That is perfectly understandable. But before you proceed to your next toaster choice, you have to hear this one out. Never judge a toaster because of its price tag because you might just hit jackpot if this happens to be your cup of tea or plate of toast for that matter.

Hamilton Beach 4-Slice Cool Touch Toaster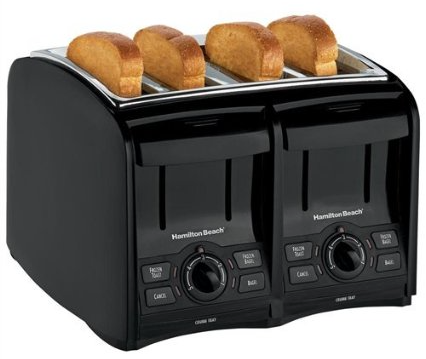 Click for the Price here!
Specifications
Despite its inexpensive price, the Hamilton Beach 4-Slice toaster features excellent features which make experts refer to it as extremely versatile. It stays true to the basics of being a toaster and then added some additional helpful features which now makes toasting a bit more exciting than before. For all these, one can expect a yummier and hassle-free breakfast each and every single day. Check out its specific details:
800 watts
5 Temperature/Cooking Controls
Wide 1.5-inch slots making all types of bread fit inside
4-Slice Toaster
Multi-toasting Smart functions
Dual Control
Automatic toast boost
Cool Touch Exterior
Convenient Crumb Tray
Comes with Extra Lift Lever
Measures 13.1 x 13 x 9.3 inches
Weighs approximately 6 pounds
Instruction manual included
UL Listed Product
1-Year Limited Manufacturer's Warranty
Features
Frankly, no one really expects utterly superb functions if we are to base it on the price of this Hamilton Beach Cool Touch Toaster. Everyone who bought this actually thought that it was just an ordinary toaster. That is before they started using it and experiencing its wonderful benefits. Check out these features that totally surprised us:
Two Become One
Yes it sounds like Spice Girls' song and no we are not pertaining to the song but this amazing Hamilton Beach 4-Slice Cool Touch Toaster. If you have not seen this in actual, the best way to imagine it is by thinking of two units of 2-slice toaster placed side by side (or combined into one).
The best part is that they remained to have different controls. Hence, you can toast your favorite bread on one side while the other side is reserved for whatever your partner or kid feels like having. This saves you more time, electricity, and effort that you can already say goodbye to morning cramming as you prepare for work and get the kids ready for school.
Totally Easy to Deal With
Basically, this 4-Slice Cool Touch toaster by Hamilton Beach is a basic toaster with no confusing controls. It does not have those LED displays and touch controls but one thing you can be assured of is its efficiency. It might come short of futuristic designs but it does not come short of great features to help you get by every single morning.
There are four buttons on each side of this toaster – bagel, cancel, frozen bread, and frozen bagel. By now you probably know all these functions. For bagel, you can literally throw in a whole bagel (believe us it will fit inside the slot) and wait for it to be perfectly browned. For the frozen bagel, there is no need to thaw. Put it straight out from the freezer and expect similarly fresh and perfectly browned bagel toasts.
Safe to Use
Safety is a common concern for consumers most especially since most have kids at home and you probably have an idea of what happens when you mix kids, kitchen, and small kitchen appliances.
Hamilton made sure this would not be of concern with this product as the sides of the Hamilton Beach 4-Slice Cool Touch Toaster are safe to touch thanks to the Cool Touch feature. However, you still want to keep those fingers away from the stainless steel parts very close to the slots since those would be extremely hot.
When taking out the toasts, use a tong or even a fork just to prevent your skin from coming in touch with the hot spots on top of the toaster.
Easy to Clean
This comes with a convenient crumb tray that is easy to get out and put inside. Experts suggest taking out the crumbs every after toasting so that the crumbs left in the tray do not get toasted over and over again and produce a burnt smell in the kitchen and the rest of the house.
Pros & Cons
Generally, everyone who bought this Hamilton Beach 4-Slice toaster are very happy, satisfied, and proud of their purchase. Who said you need to shed out hundreds of dollars for an efficient toaster?
However, some say that if you are to toast the famous Pop Tarts, you would have to watch over it carefully as the frosting does sometimes get stuck inside. But for the most part, higher percentage of those who have used this say that they have successfully put in Pop Tarts without any problem with the frosting or toasting in whatever way.
Final Verdict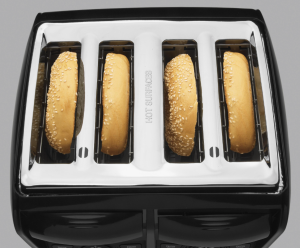 Click here for the Price!

For some reason, it becomes more satisfying if an inexpensive product performs amazingly well and above average. That is exactly how we can explain the experience with Hamilton Beach 4-Slice Cool Touch Toaster. It works well for every type of bread there is and assures everyone of stress-free breakfast.