If you have always been wondering what is happening inside the toaster while it is supposedly browning your bread, this unique but equally excellent toaster just might give you your long-awaited answer.
The Magimix Colored Vision 2-Slice Toaster has a unique design that totally veers away from the traditional look of toasters ever since it has been created and sold in the market. Instead of an all-aluminum cast exterior, Magimix chooses to have the unusual combination of striking glass and brushed steel design.
This is the world's first and only toaster today that offers a panoramic see-through design so that users can thoroughly observe the toasting process and everything that happens from the moment one drops the bread until it comes out perfectly browned. However, this only comes with a single slot making it more suitable for small families and for home use.

Magimix Colored Vision 2-Slice Toaster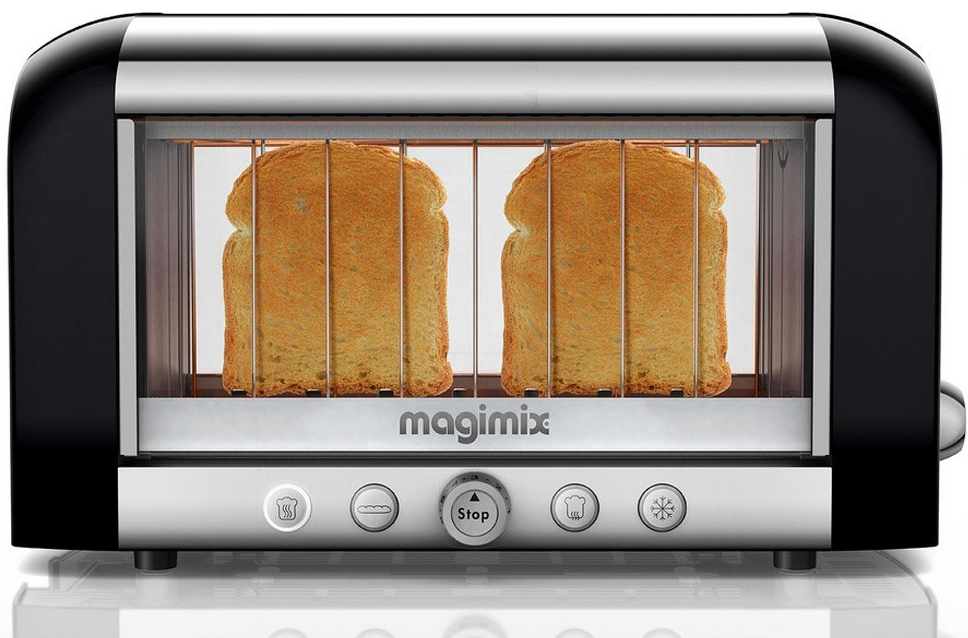 Click for the Price here!
Specifications
There is so much more to the Colored Vision 2-Slice Toaster from Magimix than just pure unique beauty. From its gorgeous yet extremely durable exterior to its numerous efficient functions and features, it is no wonder that this made it to the top 10 best toasters in the world today.
To know more, read on the full details of the Colored Vision 2-Slice Toaster by Magimix:
1,450 watts
Large, clear, double-insulated toughened panoramic glass viewing window
Stainless Steel Sides
Brushed Steel finish
High Quality Construction
Single Slot/Long Slot Design
Constant Heat for accurate toasting
Functions include Defrost, Bagel, Reheat, and Stop
Extra wide slots
Variable browning control
Accurate timing control
Slide-out full length crumb tray
Extra-high lift lever
Three-year Gold Seal Guarantee
Measures 22.5 x 39.5 x 18 cm
Weighs approximately 3.9 kg
Package includes an instruction leaflet
1-year standard manufacturer's warranty
Features
The Magimix Colored Vision 2-Slice Toaster might look differently but it still shines with quite a list of awesome features that consumers have learned to love.
To know more of the most-loved features about this Magimix, check these out:
A World First
While all other toaster brands are trying to think of new features to add on their toasters to make it more likeable and saleable, Magimix thought straight out of the box and executed a very wonderful design. As a result, the Colored Vision is a vision in itself with a beautiful panoramic glass panel. It looks as if it is inviting users to come see the toasting process and be amazed.
The glass that Magimix used is no ordinary glass but a double-insulated toughened glass which makes sure that this unique toaster remains durable and safe for everyday use. Hence, one can truly enjoy watching the toasting process for a few minutes. One can even consider it some form of relaxation to insert in the morning routine.
Ease of Use
Despite its unique design, the Magimix Colored Vision 2-Slice Toaster is still easy to use. It only has a single extra-long slot and can fit in two bread slices, bagels, and even longer artisan breads.
Notice that this also comes with a high-lift lever to make it easy for the user to get the toasted breads out without burning your skin in the process. One can also opt to use a tong if that is easier and more convenient. This would really depend on the user.
This toaster features the ordinary toasting functions such as the defrost, bagel, reheat, and stop. Since you can see right through the window, once you see your preferred brown shade, you can simply stop the toaster and retrieve your perfectly made toast.
The reheat feature, however, seems to be the most favorite among these features as it only takes 30 seconds to heat an otherwise cold toast. Hence, it quickly became a favorite of those who are always in a hurry during mornings.
Easy to Clean
It is but normal for anyone who has not used this to wonder how to efficiently clean this toaster especially given its glass viewing panel. The great thing here is that it still has a full length crumb tray which basically lets the user clean it out without having to turn it upside down and risk breaking the glass.
For the glass panel, it slides up and down easily making it extremely easy to clean as well. However, take necessary precautions since the steel sides tend to be hot especially right after a toasting session.
Pros & Cons
While the Magimix Colored Vision 2-Slice Toaster is an excellent and unique toaster, there still are several complaints raised by some of the customers who have already bought this.
One small complaint is that there is no hideaway cord to somehow keep the cord out of sight when not in use. What we can suggest here is to get a cord lace or tier to keep it organized and prevent cord dangling. Another thing is that this is quite heavy so you would have to place it where you plan to use it since it can be quite cumbersome to carry.
Final Verdict
Click here for the Price!

The Magimix Colored Vision 2-Slice Toaster is definitely a unique and without a doubt an efficient toaster that could last long years just as any ordinary-looking toaster would. It gives out precise browning even when used on a daily basis. This household appliance even looks new even after many years of using it simply because of the beautiful combination of glass and stainless steel.