With minimal operation, you can cook more than just rice with this Tiger Corporation JBV-A10U rice cooker. It is a multifunctional rice cooker that lets users prepare two dishes in a simultaneous fashion thanks to its new feature – the Tacook synchronized cooking function.
Worry no more that the two dishes you will be preparing might taste the same because this comes with a special Tiger's cooking plate which is especially designed so that the flavors from the cooking plate would not affect the rice. Making rice and cooking other dishes have truly never been this easy.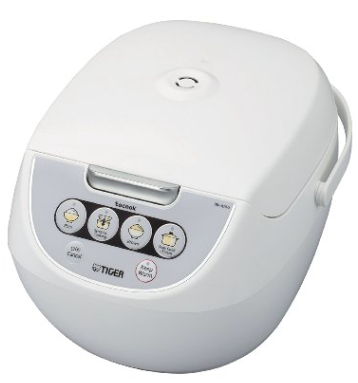 Specifications
The JBV-A10U rice cooker is most definitely one of the easiest ways to cook rice. It even allows you to make simple dishes inside the rice cooker while the rice is steaming below it. With numerous features and different cooking menu settings, one can choose the type of rice to cook and be assured that it will be perfectly done each and every time.
To know more about the detailed specifications of this Tiger Corporation JBV-A10U rice cooker, check these out:
Synchro-cooking function – Tacook
Tiger Micro Computerized System Technology
Large Icon Display
5 cup capacity
Automatic Keep Warm
One-push operation
4 cooking menu settings – Synchrony-cooking, plain rice, brown rice, and slow cooking
Easy-to-clean nonstick scratch-resistant coating of inner pan
BPA-free cooking plate
Heat releasing plate with steam vent
Package includes nonstick spatula, cooking plate, measuring cup, manual and cookbook
Features
With an intelligent cooking logic system that carefully monitors cooking temperatures, this multifunctional rice cooker is able to produce the perfect meal. This is the same reason why the dish that you cooked looks similar to the ones served in famous restaurants.
The JBV-A10U rice cooker paves way for simpler but definitely better cooking making it an excellent choice for busy persons who do not have the luxury of time to spend more time in the kitchen. To know more about its awesome features, check this quick list:
Synchro-Cooking Mechanism
Do you want to know how this intelligent rice cooker cooks the food in the cooking plate while the rice cooks down below? Basically, the steam that arises from the cooking rice below ascends to the cooking plate which then steams the food on top. The great thing about this Tiger JBV-A10U is the fact that the steam coming from the bottom is pushed upwards. Once the steam goes up, it remains there and would not go down and therefore, the taste of the rice is well-preserved and not at all affected.
Critics earlier applauded Tiger for having come up with this beautiful and modern design for a multifunctional rice cooker. It is rounded yet has a somewhat rectangular profile. The buttons are notably positioned on an angled panel on the front making it easy to read and operate.
More than being able to cook two types of food at the same time, this Tiger JBV-A10U rice cooker can also slow cook which means that you can also make one-pot recipes such as soups, curries, stew, and even jambalaya in it. Whatever you used to make on your slow cooker, try them all here and you will be more than satisfied.
However, it is worth noting the slow cooker feature has a two-hour time limit. So if you have recipes calling for a longer amount of time, you can simply go for more two-hour cycles.
Pros
Do you know that this Tiger Corporation JBV-A10U rice cooker has satisfied the taste buds of many Japanese people? Yes with their peculiar taste especially when it comes to rice, they happily approve of this great innovation. Everyone loves the fact that rice keeps warm just right without it drying or becoming hard after a while.
From packaging to the overall quality of the actual product, everyone who has bought this product thinks that it is definitely a good deal. Price is just right and would not put a hole in your pocket while functionality is impeccable.
Cons
While everyone definitely thinks that this is a great multifunctional rice cooker, some wish that the synchro-cook feature could handle more food. What we can advise for this is that if you know you will be cooking for the whole household which consists of more than two to three people, we would suggest getting the 10-cup capacity since this JBV-A10U rice cooker is designed to only hold 5.5 cups. Other than that, everything else is perfect.
Final Verdict
With rice that tastes absolutely great just the way it should be along with easy cleanup and convenient cooking, this Tiger Corporation JBV-A10U rice cooker is truly a steal at its price. Remember that it is a multifunctional rice cooker that does not just cook rice but cooks other delectable dishes as well.
Tiger Corporation definitely deserves a shout out for being innovative with this JBV-A10U rice cooker. With this small kitchen appliance, people can make healthy living happen. You now have no excuses not to cook for yourself instead of buying unhealthy takeout food all the time.