Waffles are always a hit with or without sauce, with fruits or none and regardless of age group. Kids absolutely love it while adults like because it is easy and convenient to eat especially with all our busy schedules. It provides the right amount of energy to get us going especially during hectic mornings.
Waffles might be a simple mixture of eggs, milk, flour, and other baking stuff but it does take time to perfect the batter. Thanks to the numerous baking brands today, they have come up with easy mixes where one would simply have to add egg and either butter or oil and simply put it in the waffle maker. While waiting for the waffle to come out perfectly baked, you can go about doing the other things you need to get accomplished to save time and effort.
Another great thing to be thankful for would be the high technology we have today and the genius people behind waffle maker brands. Today, there are various shapes and sizes of waffle makers to suit every consumer's preference.
Price also greatly varies depending on the brand maker, size, design, and quality of materials used. It can be quite challenging to find the perfect waffle maker. This is why we have put together a short list of must-know tips along with some of the best waffle makers we have come across with.
The Best Waffle Makers
There are many great waffle makers today but we have trimmed it down according to its functionality and capabilities in order to give you a better idea. These do not come in any exact order and is actually a mixture of different capabilities as we would like to give you more variety as you hunt for the best waffle maker today.
Cuisinart WMR-CA Round Classic Waffle Maker
Still considered as the #1 bestselling waffle maker is the Cuisinart Round Classic which has been reviewed by close to 2,000 customers already at Amazon. Their verdict is an outstanding 4-star rating. Here are specified details:
Dual indicator lights
5-setting browning control
Round nonstick cook plate with four quarters
Compact storage – stands on end
Built-in overflow well
Easy-to-clean surface
120V voltage
3-year warranty
We have always loved simplicity in small kitchen appliances and this Cuisinart Round Classic Waffle Maker exactly depicts that. It is a simple machine that never fails to give out perfectly browned and crisp waffles in a short time of only 5 minutes.
Hamilton Beach Flip 26020 Belgian Waffle Maker
Famous for being the more affordable one, this Hamilton Beach Belgian Waffle Maker only makes one waffle at a time but nevertheless short of perfection. Highly suitable for those who are living in small spaces, this is still favored by consumers as proven by its 4-star rating at Amazon. Here are some of its specifications:
Rotating waffle maker
Nonstick pan
Adjustable Temperature
Delivers professional results
Easy-clean nonstick grids
Adjustable browning control
Indicator lights
Grid locks securely
Deep Belgian pockets
Matte Finish
With its price of less than $50, the Hamilton Beach Belgian Waffle Maker is definitely worth considering. It is easy to clean and delivers wonderfully cooked waffles in no time.
KitchenAid KPWB100OB Pro Line Waffle Baker
This great-looking waffle maker makes two perfectly browned waffles at the same time, therefore, cutting your cooking time in half. This is highly favored by consumers giving it an almost perfect rating of 4.5 stars. However, it does come a bit more expensive than the others we have mentioned here. Nevertheless, it is definitely an investment. Learn more about this below:
1400-watt output
Produces two 7.5-inch diameter by 1-1/4 thick waffles
Double sided
Clamshell baking unit that flips
Stainless steel and die cast metal construction
Constant baking temperature
Non-stick waffle plates
Built-in overbake feature
2-year manufacturer's warranty
Truly living up to the KitchenAid name, this Pro Line Waffle Baker gives big excellent waffles consistently that breakfast just might be more enjoyable.
All-Clad 99011GT 2-Square Belgian Waffle Maker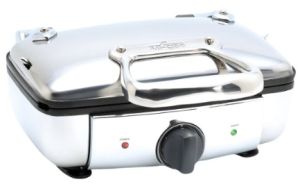 You simply know this is the best with its stellar 4.5-star rating at Amazon as given by consumers who actually bought and tried it. Given that this is a specialty item made for Williams-Sonoma, it delivers nothing short of exceptionally crisp waffles each and every time in less than five minutes. Check out more on the details below:
Produces four 4.5-inch square waffles
Uses advanced heating technology for consistency
Steam-release system
Indicator light for optimum temperature
Overflow trough
Nonstick finish
If you want to invest in a really good waffle maker, then this is by all means should be your bet. It quickly cooks the outside to a wonderful crisp yet the inside remains as moist as it can possibly be.
Calphalon No Peek Waffle Maker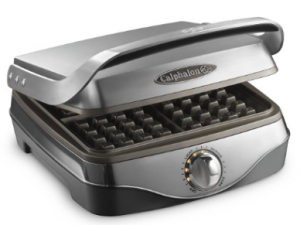 With over 300 real customer reviews, this simple but elegant-looking waffle maker has garnered an average of 4.5-star rating at Amazon. A certified bestseller indeed, the Calphalon No Peek is regarded as a high-end waffle maker that produces Belgian-style American waffles. Check out more details below:
1500-watt output
Opti-Heat System for accurate temperature control
Illuminated No Peek progress indicator
High performance bronze nonstick plates
Chimes when the waffles are ready
Automatic shutoff feature
1-year manufacturer's warranty of electronics
5-year warranty on the bronze nonstick plates
Measures 13.2 x 8.2 x 14.2 inches
Weighs about 9 pounds
Given that Calphalon has truly established themselves in the area of high-quality cooking surfaces, this waffle maker will not disappoint. From its capacity to the high-quality materials and to the beautiful construction, this is a keeper.
Quick Things about Waffle Makers
When choosing a waffle maker or just about any other small kitchen appliance, always make sure to assess your needs first and foremost. Here are some questions you might want to ask yourself before shopping around for one:
Are there kids in the household or will the waffle maker be used solely for adults?
Do you prefer multifunctional waffle makers where you can also quickly cook eggs, pancakes, omelets, and the likes?
Do you need a large capacity waffle maker or not?
Do you want a waffle maker that uses cooking spray or would you rather skip that part?
Do you know the difference between Teflon type and silicone anodized surfaces? A great tip here would be to always choose the Teflon type as it is more durable.
Do you prefer permanently attached or removable waffle plates?